Only Bharat can thread the world in a necklace of mutual respect – Dr. Mohan Bhagwat Ji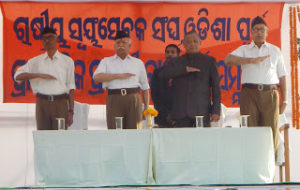 Anugul, Bhubneshwar. RSS Sarsanghchalak Dr. Mohan Bhagwat ji declared that Bharat is an immortal nation. Hindutva is our millenia old culture, threading all of Bharat in a necklace of mutual respect and strength. Hindutva respects all religions, castes and communities, respects all viewpoints and tries to hold them all in unity.
Addressing a two-day "pravasi karyakarta sammelan" he declared that the unity in diversity is our tenetto keep all united is the basic mantra of Hindutva. From times immemorial Hindutva has been holding us all together in this way to this day, whereas rich civilisations like Rome and Greece have become extinct.
He said that in spite of the repression of the Mughals and the British for centuries, the basic ethos of Hindutva has been saved. We have been able to save our culture. It is the greatness and generosity of Bharatiya culture that has made it popular. There is an atmosphere of unrest in the whole world which is looking to Bharat for peace. Bharat has the strength to bind the entire world in togetherness.
He said that Bharat is the most ancient country in the world. It was there in the past, it remains in the present and will remain till the universe comes to an end. The great culture of Bharat is based on Hindutva. The generosity of this culture and civilisation appeals to all. Hindutva has influenced everybody living in Bharat. Since all religions are respected here, all have got equal rights to be here. Bharat is the only country in the world where people of all religious sects live in security. Countries and communities which got cut off from the Akhand Bharat are struggling for their survival. They are facing this crisis due to separation from Bharat and Bharatiyata.
In ancient times, Sanatan Dharma cast Bharata in the role of a "Vishva guru" (leader of the world). The time has come for it to resume this role. RSS does not get involved in politics. It is committed to Hinduism, which means tolerance. Hindutva is not a religion, it is a way of life. Hindus across the world have been spreading the message of peace and have never tried to suppress the independence of any nation.
When the West looks towards East, it sees Bharat and China. China never evoked confidence due to its aggressive attitude. But everybody trusted Bharat. Bharat can emerge as a world leader. The Hindus believe in truth, but the world respects power. Unity is strength, hence to unite is a natural rule.
He said that due to diverse opinions different countries are heading towards war. The world needs Bharat to escape that situation. So Hindus living in Hindustan must unite. All Bharatiyas living under the Sanatan Dharma would have to unite to establish peace in the world.

Former chief justice of the Odisha High Court Justice Prafulla Kumar Tripathi Ji said our culture searches for faith even in the agnostics. Purva kshetra  Sanghchalak Ajay Kumar Nandi ji, Sanghchalak of Odisha Purva prant Samir Kumar ji were among others who were present on the occassion.

/?php if(of_get_option('disable_share') != true) { ?> /?php echo mom_single_share(); ?> /?php } ?>
About The Author
Related posts