De-colonise history and media education – J. Nanda Kumar Ji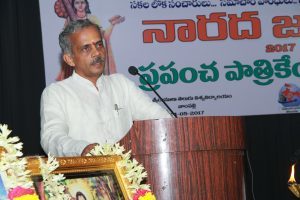 Hyderabad (VSK). There is a need to de-colonise the entire education system, including the history and Media education. If Narad Sutras are included in media courses, the journalist fraternity and thereby the nation as a whole, will stand enlightened, said Sri Nanda Kumar Ji, Akhil Bharatiya Sanyojak of Pragna Pravaah during the Narad Jayanti celebrations in Bhagyanagar (Hyderabad) on  May 14, 2017. Sri Nanda Kumar  Ji was the chief speaker at the  Narad Jayanti 2017 at Potti Sriramulu University auditorium, organised by Samachar Bharati's Vishwa Samvad Kendra, Telangana.
He said there is a difference between having a successful life and having a meaningful life. People have begun to compare success with how high on the ladder one has climbed, whereas a meaningful life is built on values. The current falling standards in journalism is a matter of concern as some media managements have converted the 'news' into a 'trade commodity'. In order to overcome this crisis, the journalists themselves need to stand for truth and restore the dignity of this sector that thrives for the well – being of humanity, he added.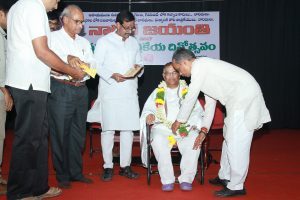 Vijay Babu, State Information Commissioner, speaking as a chief guest recollected the special association he had with all the four senior journalists who were felicitated. He said that these four have stood against a lot of pressure to present truth. He regretted Narad had been ridiculed by film-makers as a comedian and therefore the nation does not know about the great knowledge he had as a mass communicator.
Ever since the Narad Jayanti celebrations started, this program has caught up in other parts of the country and is being celebrated with lots of enthusiasm. Each year Samachar Bharati felicitate some senior journalists too.
As part of Narad Jayanti celebrations, 4 senior journalists Sankara Narayana of Eenadu, Aruna Ravi Kumar of Gemini TV were felicitated with Vadlamudi Ram Mohan Rao Smaarak Puraskar. Shiv Kumar (formerly with The Hindu) and Vidyaranya of Hindi Milap were felicitated with Bhandaru Sadasiva Rao Smaaraka Puraskar. All of them shared their insights on this occasion.
The program was attended  by over 200 journalists and friends from the mass communication fraternity. For the last 10 years, Vishwa Samvad Kendra and  Samachar Bharati Cultural Association have been conducting Narad Jayanti as the World Journalists' Day.
About The Author
Related posts