India to play crucial role in International Laws – Aniruddha Ji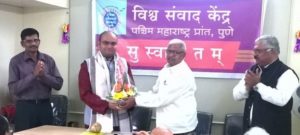 Pune. The government has decided to offer more opportunities to the youths with changing times which is a welcome step. The world is looking at India with expectation. The India will play a crucial role in framing in the international laws in future, said the international law expert Aniruddha Rajput Ji here on Saturday.
Rajput Ji was speaking at the felicitation and interaction program organized by Vishwa Samwad Kendra (Paschim Maharashtra) for his election to the International Law Commission (ILC) of the United Nations. Vinayakrao Thorat, Paschim Maharashtra Karyavah of Rashtriya Swayamsevak Sangh, Ravindra Ghatpande, secretary of VSK and Milind Kamble, editor, VSK were present on the occasion.
Speaking in humorous vein, Rajput Ji said, "Even though we are independent nation, we were yet dependent on others for making laws. Even today we have laws based on Roman system. We were 'rule takers' till now and are becoming 'rule givers' now. 'Their system is our system' should be changed now. India will decide the direction and nature of international law in coming days.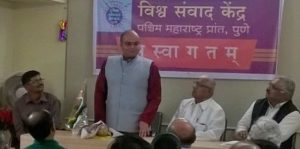 Rajput Ji is the youngest lawyer and the first Maharashtrian to be elected to ILC at the age of 33 years in its 68-year history. Rajput Ji got most – 179 votes – among the seven candidates elected from the Asia. In this regard, he said, "Experienced persons and bureaucrats were given preference in our country till now. However, the government has now decided to give more scope to the youths. Foreign Minister Sushma Swaraj herself interviewed me and gave me an opportunity to represent India. She must be commended for this. One may imagine the changing circumstances by the fact that other countries changed their candidates after India chose a youth."

He credited his success to the values imbibed by RSS saying, "Lot of people have contributed to my upbringing. I have come here after so many individuals spent man-hours. Had I been unsuccessful, their toiling would have been wasted." He also shared many memories with many RSS dignitaries including Late Sarsanghchalak Rajju Bhaiya Ji. Speaking about the world's perception of India, he said, "The world expects a lot from us. Now we should think whether we fulfill those expectations." Aniruddha's mother and father Dhananjay Rajput also shared memories of his childhood and his upbringing.

/?php if(of_get_option('disable_share') != true) { ?> /?php echo mom_single_share(); ?> /?php } ?>
About The Author
Related posts