RSS IT Milans – Small steps, impressive achievements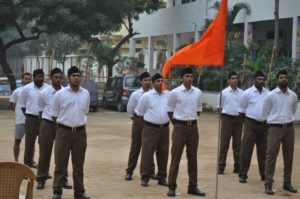 Hyderabad. Pictures of Swayamsevaks attending Sangh camps in hundreds always left me in awe. Very recently, I participated in Vijaydashmi Utsav in Bhagynagar in which nearly 10,000 swaymsevaks dressed in the new uniform, marched in sync with the band. That was my first personal tryst with the Sangh's organizational strength. But what will always remain etched in my memory is 32 of us congregating for our Milan's Dhwaj Pradan utsav. Till recently the strength was just four. Even 32 definitely is not a big number but our team effort for sure will stand out. Receiving first cheque was awesome feel, but this experience is something else altogether, said Tygraja RSS IT Milans Karyavah Janki Choudhary, an IIT Delhi graduate. Tygraj IT Milan is one of the 50-odd IT Milans being conducted all across the twin cities of Hyderabad and Secunderabad. A Milan is awarded its own Dhwaj only after its average attendance consistently exceeds 10 and has more than 20 swayamsevaks with complete Sangh uniform, Keshavpuram Khand Karyavah Sripad Mansabdar said.
Bhagyanagar IT Milans Sah-karyavah Ramkrishna Ponapally said IT Milans – an experiment initiated just 10 years ago – is now leaping forth in all directions. It's all due to numerous karyakarta's like Janaki ji and Sirpad ji across the city who put their soul into the work and regard Milan work as a personal responsibility. Format of IT Milan is not very different from that of any daily RSS Shakha, except that Milans happen weekly. Today, we get people working for all major global and Indian IT companies, including Microsoft, Google, Accenture, IBM, Oracle, Cognizant, Wipro, Infosys etc. The distinct advantage of IT Milans is that it caters to both local as well people who come to the city for work from various parts of the country.
The fact that people from all states attend IT Milan help us understand our Nation, its rich heritage and culture. Our Milans are in fact mini Bharat. "Geet" of all languages are sung in Milans, no wonder it pains us all equally when regional sentiments are flamed in parts of the country in the name of language and culture. We follow a very decentralized working model where every Milan is free is to take up activities it thinks their locality needs or their swayamsevaks are keen to pursue. Only pre-requisite condition is that work has to be selfless and in larger national interest.
He cited example of Balagokulam. It was started nearly five years ago to help children discover and manifest inherent spark of divinity by connecting them with Hindu culture and traditions, currently it is being conducted in more than 60 communities across the twin-cities. Nearly 2000 children participate in Balgokulam activities every week. Increasingly large number of women are volunteering to conduct Balgokulam.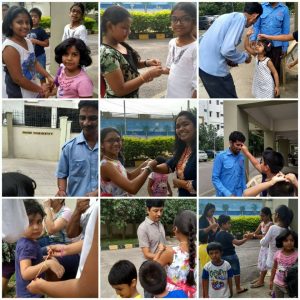 Service activities – Milans in and around Gachibowli area run a daily Free-Tuition centre in a slum located near Gopichand Academy. They also succeeded in enrolling nearly 15 of these into to a nearby government school. These students who hail from Odisha, Bengal, Bihar, Chhattisgarh otherwise would have never got into formal education system. Another Milan conducts Free Medical Camps every month in Siddique Nagar, another locality dominated by migrants people who work as security guards and housekeepers in MNCs.
Senior Professionals Mandali – Another lot of Swayamsevaks took it upon themselves to organize monthly meetings for executives who hold CXO level positions in MNCs. Currently two Mandalis are being run and plans are on to start more. Idea is not to leave any strata of society untouched.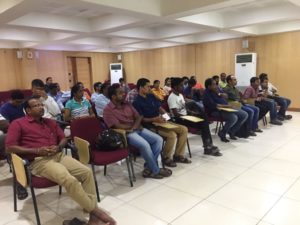 Not to be left far behind were women in our extended Sangh Family. Wives of our Karyakartas started weekly Sevika Samiti Milans. Two Milans are now being conducted every week in Gachibowli and Miyapur. They conduct their own Gurupuja Utsav.
Apart from works that have gained institutional shape now, every IT Milans keep conducting various activity like mass awareness programmes on Conversion, Swadeshi, threat posed by China etc. Collectively, we swaysmsevaks put 100's of man hour every week to realize the dream of Param Vaibhav of Motherland.

We also saw a new and a very positive trend of Swayamsevaks leaving cushy corporate job to take up farming as whole-time profession. They are now associated with Gram Bharati and inspiring more people to take up this noble profession.

Our satisfaction lies not in changing the world, but in small achievements like more new Milans getting Dhwaj and they initiating small activities in their locality, which if not anything instill sense of national duty in them. Tiny as you may say, but so is each drop, Ramkrishna poignantly concluded.

/?php if(of_get_option('disable_share') != true) { ?> /?php echo mom_single_share(); ?> /?php } ?>
About The Author
Related posts