RSS to work on rural development and strengthening family bonds – Suresh Bhaiyyaji Joshi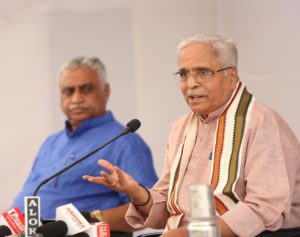 Bhopal (VSK). About two-third number of the RSS "shakhas" are conducted in rural areas while one-third of them in urban areas because about 60 percent of people live in rural areas. At present, the rural society is facing many challenges, that is why the RSS's all-India executive council (Akhil Bharatiya Karyakari Mandal) stressed the need to intensify the RSS activities in the rural areas. One of the major challenges in rural areas is bringing about social harmony. In spite of various means of communication, there was lack of correct and useful information in rural areas. There is a need to spread right information and perception in rural pockets, said RSS Sahsarkaryavah Bhaiyyaji Joshi while addressing media persons after the conclusion of the three-day all-India executive council. All-India Prachar Pramukh Dr. Manmohan Vaidya Ji was also present on the occasion.
Bhaiyyaji said the executive council had prepared a plan for rural development and family exhortation. In the recent past farmers have been struggling with various problems. The RSS feels that efforts should be made to make farmers self-dependent. There was a need to prepare a policy for them after understanding their problems. The RSS would try to get farmers back to organic farming, for which some plans have been made. There is a need to improve the economic condition of farmers, so the government should prepare a plan to get the optimum value for their crops. He said the RSS would take the youth in the age-group of 30-35 in its fold for development works in rural areas.
At the same time, the RSS has undertaken the task of strengthening family bonds because family plays a very significant role in the development of a person. If children acquire right attitude and values from the family, their growth would be in right direction. The RSS is working in that direction and has got in touch with more than 20 lakh families under this drive. We need to further strengthen and spread this task.
Whatever issues were discussed in the executive council meeting would be given a final shape at the Akhil Bharatiya Pratinidhi Sabha meeting scheduled to take place in March next year.
In reply to a question, Bhaiyyaji said the problem of Rohingyas was quite serious and it must be considered why they were being ousted from Myanmar. They have picked up Hyderabad and J&K to settle down which raises many doubts. He suggested the government to prepare an immigration policy which should decide for how long could immigrants stay in the country. India, he said, was never averse to accepting refugees. But it is essential to see their background before they are allowed entry into the country.
Replying to a question on Ramjanmbhoomi he said all hindrances and obstacles be removed, before the construction of Shri Ram temple. The government, he said, try to overcome all obstacles.
Commenting on reservations he said it should continue till the purpose as envisioned by Dr. BR Ambedkar was not realised. The society should also decide for how long should reservation be allowed.
About The Author
Related posts