Sarsanghachalak Ji talks with the leadership of Matrishakti and Ghumantu Caste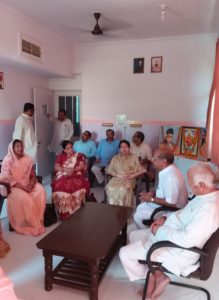 Jaipur (VSK). Rashtriya Swayamsevak Sangh Sarsanghchalak Dr. Mohan Bhagwat Ji met the heads of the nomadic tribes in Bharti Bhawan on Monday in Jaipur. On this occasion, distinguished noblemen of  Bagmaria,  Nut, Sansi, Kalbelia, Bavari, Banjara, Gadiya Lohar etc. were present.
Sarsanghchalak Ji said the RSS had been moving ahead taking along the entire society for the overall progress of the nation. He called upon the heads of the nomadic tribes to work with determination for their education and self-respect.
He said we must emphasise "One Crematorium, One Temple and One Water Source" in the society. He also said all the communities should be in close touch with one another. He appealed for the work of motherhood for service activities.
The Sarsanghchalak informed about the idea and work of the RSS and the experience of service work. He encouraged the work of such services and said they must continue doing good for the country and society.
Matrishakti said that whatever the Sangh does or is like, the picture should come in front of the society. Women's education, social harmony, women's employment, artists, many women have made names higher in the country but still, the support of the government is not enough. Rajasthan's famous Kalbeliya dancer Gulabo told Dr. Bhagwat that said she had taught dancing to 5000 girls till now.
About The Author
Related posts