231 archers from 22 states participated in 17th National Vanvasi Archery Competition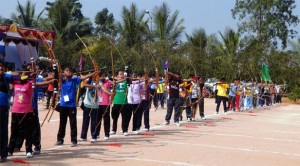 Bengaluru. "Vanvasi youths have to work hard to excel in sports" said Sarbanand Sonowal, Union Minister of Sports & Youth affairs here on Sunday, December 28. He was addressing at the closing session of 17th National Level Vanvasi Archery Competition at Vaghdevi Institute, Vartur, Banglore. He expressed that archery is our tradition of Janjati communities. Sports cultivate moral values.  He welcomes the initiative of Vanvasi Kalyan Ashram in tribal sports at national level. He assured to extend all sort of support for Vanvasi (tribal) sports activities.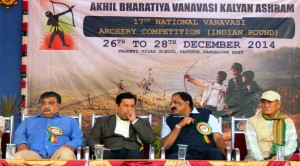 On the occasion Shri Jaleswar Brahma, Vice President of Vanvasi Kalyan Ashram said that Ashram is a voluntary social organisation working for the development of Janjati communities of Bharat. Sports competition is one of the major activity through which we can explore hidden talents of Vanvasi youths who are staying in remote villages.
Rahul Banarjee an Olympian archer graced the function as special guest of the function. He said that archaery is in blood of Vanvasi badhus. Shri Shakti Pad Thakur gave brief information of the competition and conducted the prize distribution ceremony.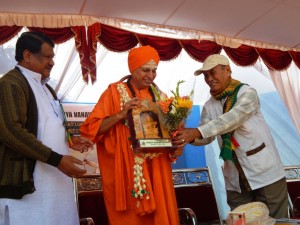 The three day 17th National Level Vanvasi Archery Competition was inaugurated on 26th December by Shri Jual Oram, Union Minister for Tribal Affairs. He appreciated the efforts of kalyan Ashram and encouraged the archers. ShriSuhas Gopinath, Youngest CEO & entrepreneur of Banglore graced the session as Chief Guest. He suggested the youths to realise a dream through sincerity and honesty.
In these events 231 archers from 22 state units of Vanvasi Kalyan Ashram participated in the competition. Competitions were conducted for boys and girls in sub-junior, junior and senior groups. The event was officiated by Competition Director Shri Dhaneswar Maida of Rajasthan, Shooting Director Shri Prabodh Nanda of West Bengal and Result Director Shri Vidyadharji of Andhra Pradesh. Archers got opportunity to interact with Olympiyan Rahul Banarjee and Satyadev Prasad.
On 27th evening Matrihaste Bhojan was organised. Nearly 65 families from Bengluru city contributed in the Matrihaste Bhojan. Colourful cultural programme of Bharat Natyam and Vanvasi dances along with songs were appreciated by all.

/?php if(of_get_option('disable_share') != true) { ?> /?php echo mom_single_share(); ?> /?php } ?>
About The Author
Related posts
Leave a Comment