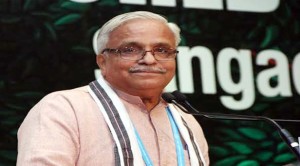 New Delhi. The first ever World Hindu Congress 2014 organized by World Hindu Foundation at the Hotel Ashok, New Delhi, Bharat, concluded on November 23 on a high note as the delegates and eminent speakers assembled together to deliberate on the way forward. The plenary session had Shri Suresh Joshi, Sarkaryavah, RSS and Dr. Pravin Togadia, International Working President of Vishva Hindu Parishad as key chairpersons. They hosted a discussion on taking Hindu society forward, with strategic inputs and thoughts from delegates.
Talking on making a secure and prosperous Hindu society, Dr. Pravin Togadia, International Working President of the Vishva Hindu Parishad, said "We have a reason to take Hindus ahead globally, we have a reason to take Hindus ahead nationally. We have resolved for Hindu security, prosperity and Hindu cohesiveness." He further added, "Hamein chahiye surakshit Hindu samaj, haemin chahiye samriddh Hindu samaj, haemin chahiye samastha sangatheet Hindu samaj, haemin chahiye samyukta Hindu samaj".
He also elaborated on a few steps undertaken by Vishva Hindu Parishad for the welfare of the Hindu society. To secure Hindu citizens, Vishva Hindu Parishad has created a 24*7 helpline number 20266803300, for assistance of Hindus across the country. VHP is also providing primary education to more than 50,000 villages and educating more than 2 million children. Their aim is to increase the number of villages from thousand to lakhs, and educating more than 5 million children.
Shri Pravin Togadia also emphasised, "For prosperity, health is important as healthy nation is a happy nation". To realise this goal, VHP has started a 24*7 helpline number 18602333666, for providing super-consultant services free of cost. These services have started in New Delhi and will be established in other cities throughout the country within the next two years.
Shri Suresh Joshi, Sarkaryavah, RSS said, "Our identity can be expressed in two words, civilisation and culture. The challenge today is to maintain our identity by preserving our civilisation and culture. We have to give out one message to the entire world.  To protect our nature, this is our culture. We have to safe guard it. If there is a challenge, if there is a question, it is the one on how the rest of the world proceed in towards peace". ("Hamari identity kya hai, yeh do sabdo mei vyakt hoti hai, sabhyata awem sanskriti. Isliye aaj koi chunoti hai toh iss sabhyata aur sanskriti ko surakshit rakhte huye saare vishwa ke saamne hum apni pehchaan banaye rakhein. Humne saare vishwa ko ek sandesh dia hai. To protect our nature, this is our culture. Issi ko bachakar rakhna hai.poori duniya mei agar koi chunoti hai, koi prashna hai toh yehi hai ki sesh vishwa shanty  ke marg pe kaise chalega")
At the closing session, the World Hindu Congress organising committee announced the plan for hosting the next World Hindu Congress in United States of America(USA) in the year 2018. Besides, they will be hosting World Hindu Economic Forum in London in September 2015.
The theme envisioned for this historic event was the Hindu principle of Sangachchhadhwam Samvadadhwam, which means "Step together, Express together".  On the first two days of World Hindu Congress 2014, there were 7 parallel conferences held at any given time during the day, with eminent personalities from varied fields spoke on issues like the role of Hindu organisations in positioning, strengthening, defending and promoting Hindu Dharma and society; connecting Hindu Economy worldwide and encouraging young Hindu entrepreneurs; developing a common strategy for safety and security of Hindu worldwide and in hostile environment and countries; united efforts in adverse and complex political situations; Hindu youth campaign against human rights violation, among other issues.