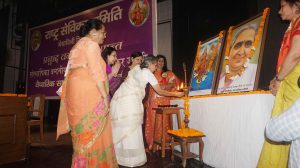 New Delhi. To create congruence among family, society and nation, every citizen must be filled with nationalistic sentiments. We are mortal beings but nation is immortal. A person, who considers nation above himself, will only consider himself as the means to raise the esteem of the nation because it is not he, but the organisation and nation that are supreme. These thoughts were expressed by Chitra Tai Joshi, Akhil Bhartiya Sehkaryavahika, Rashtra Sevika Samiti in a seminar organised in Delhi to commemorate 114th birth anniversary of Laxmibai Kelkar Ji (Mausiji), the founder of Rashtra Sevika Samiti.
The title of the seminar was – Ideological Congruence-A Challenge. It was organised by Medhavini Sindhu Srijan, the intellectual wing of Delhi Prant Rashtra Sevika Samiti.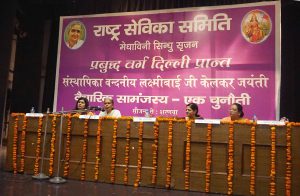 The programme was presided over by Bindu Dalmiya Ji, Chairperson, National Financial Integration Committee, Niti Ayog. She said that the ideology, with which Mausiji founded Rashtra Sevika Samiti in the third decade of last century, is still relevant and works as building block of the society. She referred to recent speech of PM Narendra Modi in which he supported Laxmibai Kelkar's belief that women must play an important role in nation building besides rearing family.
Lakshmibai Kelkar was born on July 06, 1905 (Ashadha Shukla Dashami) in Nagpur. She was affectionately called as "Mausiji". Her childhood name was Kamal. Her parents were Bhaskar Rao Datey Ji, a Government servant and Yashodabai Ji, a homemaker. Yashodabai Ji was a well aware and well informed person. India was under British rule then and purchasing and reading Lokmanya Tilak's revolutionary newspaper 'Kesari' was considered an act of treason. Still Yashodabai Ji not only purchased it but organised community reading of this paper too. Thus, Lakshmibai inherited her deep love for the motherland, organisational skills and fearlessness from her daring mother. She realised that mere political freedom is not sufficient, women must be empowered and made self sufficient besides making them politically aware. She believed strongly in family system and said that woman play most important role in imparting SANSKAR (values) to children which ultimately strengthens the society and the nation.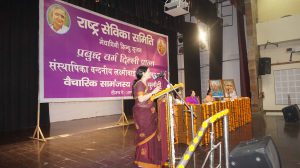 Her sons were member of Rashtriya Swayamsevak Sangh and they introduced her to its founder late Dr. Keshav Baliram Hedgewar. Taking inspiration from him, she set up the Rashtra Sevika Samiti in 1936 in Wardha on the auspicious day of Vijaya Dashami.
Today the Rashtra Sevika Samiti is the largest women organization in the world upholding Indian culture, values and traditions. It has 4356 Shakhas (branches) in 546 districts and more than three lakh Sevikas (female volunteers) actively involved in socio-cultural activities. Samiti also runs more than 855 service projects all over India for the poor and underprivileged, without regard to religion, caste, creed, sect, gender or ethnicity. These include schools, libraries, computer training centres, free tuition centres etc.
Samiti is undertaking several projects in tribal and Naxal-affected areas for violence hit underprivileged girls. Samiti transforms their lives by empowering them with free education and other required facilities.
May it be natural calamity or invasion by enemies of nation, Samiti always comes forward for rescue and rehabilitation work.
Sevika Samiti started its own multilingual publication called "Sevika Prakashan" in 1953 and an Indian calendar book called "Dindarshika" in 1965.
Medhavini Sindhu Srijan is the intellectuals wing of Samiti which includes renowned lawyers, journalists, artists etc. It organises talks, seminars etc on issues of national and international importance to make Sevikas aware of current issues and their implications.