Nari Shakti Kumbh 2018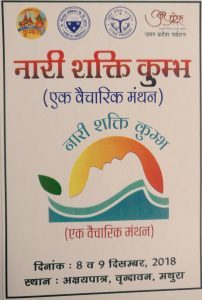 Vrindavan. Chants of "Shakti, Shakti, Nari Shakti" rendered the air along with "Bharat Mata ki Jai" and "Vande Mataram", when the Nari Shakti Kumbh was declared open. Organized by Dr. Bhimrao Ambedkar University, Agra and Uttar Pradesh Government's Tourism Ministry, it was one of the five Kumbhs which are to be held in this year of the Kumbh (which will take place in Prayag, Uttar Pradesh). The theme at Vrindavan Mathura was Women Empowerment, while the Ayodhya Kumbh will focus on Social harmony, the theme at Kashi would be environment, at Prayag would be Indian tourism and at Lucknow's conceptual Kumbh, the focus will be on the youth.
More than 4,500 women from all walks of life gathered for the first Nari Shakti Kumbh at Vrindavan. If one were to just take a cursory look at the papers submitted for the Kumbh, one would appreciate the deep wisdom of the women who had gathered. They were modern but had not forgotten their roots. They did not want the Western ideology of Freedom – they wanted to walk as equal partners in progress, without forgetting their heritage or losing their Stri Shakti (feminine power and grace). Women from the remotest villages, who were bringing about a change in their surroundings, were a part of the representation.
Be it the entrepreneur or the social worker, be it the teacher or the housewife, all were part of the Kumbh. They were Power Incarnate while also being proud of their identity as a woman.
The combination of new-age energy and age old wisdom marked the speeches of the Speakers in the Nari Shakti Kumbh and the blend was as fascinating as it was electrifying. In Geeta tai Gunde's words, "Kumbh is more than a Shahi Snaan. It is not Karm-kaand. It was more about discussions (of dharma and rituals), knowing the conditions prevalent in every area of the country, and reaching out the consensus and wisdom to the whole of Bharat in turn." She made a special mention of the fact that in our scriptures women were shown as capable of giving proper justice and that since Vrindavan was the land of Radha, it was an apt place to have discussions of Stri Shakti in this bhoomi. Rita Bahuguna Ji continued in the same tone of age-old wisdom when she said that Bharat is known in 'Maa Swaroop' and that women are in the forefront when it came to creation, love and pride.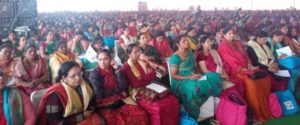 In Sushma Swaraj's view, when there is a perversion in society, it forgets its own glorious past. She deplored the fact that girls are usually told that they were the weaker sex physically and spiritually and therefore many of them suffer a lack of self-confidence and guts. But a simple observation of animals teaches us that it is actually the female which protects and nurtures the herd. Our ancestors too declared just one day per male God but decided that Shakti would be worshiped for nine days, twice a year. She exhorted society to have pride in the girl child and stated that PM Narendra Modi too worked towards the goal of giving respect to the girl child. She went on to speak about how women should not forget their nurturing instinct in the race for supremacy. "Mata Nirmata hoti hai" – the Mother who is the giver of life is also the giver of the world to the child. She drew every woman's attention to the role of women and elders in the family, in keeping the family structure intact and in protecting the languages and the heritage.
The Governor of Goa, Mridula Sinha, drew attention to the role of brothers in the lives of girls. She wanted the women to spread the knowledge gained in the Kumbh to every corner of the Nation and said that such meetings were necessary to keep the Sisterhood alive.
When the lead speaker Nivedita Bhide of Vivekanand Kendra spoke, it was a reminder of why Bharat is still the Vishwaguru. In Bharat, Ekaatmata (solidarity) with the One was and is the Philosophy of Life.
From One to Family
From Family to Society
From Society to Country
From Country to World
Each one to God
This was the jeevan darshan (Life Philosophy) which we followed, where we are all complimentary to each other, not supplementary. Like body parts which work in perfect harmony, men and women too should work in harmony without any competition between them. Human development leading to realization of the soul should be the ultimate aim of life, she said. She brought out a pertinent point when she said that modern day idea of liberation leads to the woman standing alone.
Shakti has the capacity to build or destroy – foreign cultures repressed women to such an extent that when the women's liberation movement started, family, culture and religion was depicted as the Enemy. In Bharat, Shakti was moulded towards nirmaan (creation). Western concept of 'Freedom' or 'my choice' is actually slavery of the senses (Indriya) and this cannot be compared to actual freedom or Swatantra. She insisted that this cannot lead to Stri-Mukti or freedom for women. Actual equality and safety of women is possible only when men are given the Sanskaar to respect women, because Shyam Darshan is possible only with worship of Radha as Shakti.
Shri Ram Naik gave emphasis to Educating the Girl Child, because as Dr. Radhakrishnan had said, ".. when a girl becomes literate, two families become literate." He quoted statistics which showed that in 26 of the 28 Universities in Uttar Pradesh, 56% of those graduating and participating in convocations were girls. Women are moving ahead, he said, and exhorted women to use their shakti for the betterment of the society. It was mind boggling to hear that 13 crore people from 107 countries are expected for this year's kumbh mela.
Eleven women were awarded in the first Nari Shakti Kumbh ever held. These exceptional women from all walks of life included "Mothers on Wheels", "Missile Woman' Tessie Thomas, the youngest mountaineer Shivangi Pathak, and others deeply involved in social service. Their achievements made every one present feel proud of being a woman.
Hema Malini, the current MP of Mathura-Vrindavan, was welcomed with a loud applause especially when she pointed out that Sri Krishna himself worships Radha. She insisted that women were capable, not weak. Anuradha Jaiswal made a very spirited speech which she started with a quote –
"Nari ka Sanman Kare Hum, Aur Janme, toh Abhiman Kare Hum"
She reminded us that there is no guru equivalent to a mother and there is no friend equivalent to a wife. She assured all those present that the coming years would be one where women will be powerful.
Shouts of "Vande Mataram" rented the air when Nirmala Sitaraman stood up to speak. She too participated in the chants, much to the joy of all the women present. Her speech was a mix of the ancient and the modern. She made a point about 22 women rishikas having written Vedic verses. The unique quality about Bharatiya women was that they don't talk about their own achievements, but she insisted that this was necessary in today's time. She made women aware that it is necessary to teach life skills to boys too and that they should be taught to be more responsible and have respect for women. The family system is the backbone of Bharatiya Samaj and if we want to be a Vishwaguru once more, we have to protect it, she said. She assured all the women present that they had innate talents and that they could prove their talent in every area.
Arvind Dixit hoped that the participants of the Nari Shakti Kumbh were satisfied with the arrangements and they were rejuvenated by the events held. He made the cryptic comment that in this Amrit Manthan, we women should take home only the Amrit and leave behind the Vish. This was very cryptic because there was no vish anywhere in the session at all. There was only positivity everywhere and a newfound zeal to work for the well-being of women in every area of Bharat.
Short sessions were also held with themes like –
Role of women in national development
Strengthening family – strengthening nation
Present challenges and their solutions
Cultural programme
Discussion on research papers presented
More than 4,500 women had participated in this first Nari Shakti Kumbh, from all parts of Bharat. The 20 ladies from Sikkim looked absolutely resplendent and energised. The 68 strong contingent from Aurangabad were brimming with 'Urja' and positivity and tons of self-confidence. Uttarakhand which had sent about 50 women felt that this was the ideal occasion to meet old friends from all over Bharat and they were happy about the encouragement they got to do something more in the future.
The 50 highly positive ladies from Telangana were taking home loving memories of the event. They were impressed with the discipline during the whole event and were inspired by the selfless work done by the women who had received awards. They loved the quote, "Aasmaan ko uncha kar do". The elegant ladies from Jammu felt that a new light of energy, zeal and togetherness had been lit in them. Uttar Pradesh definitely proved that it would be the Uttar (answer) to the merging of the ancient with the modern without losing emphasis on either.