New Delhi. A delegation of Akhil Bharatiya Vidyarthi Parishad (ABVP) office bearers called on the University Grants Commission (UGC) Chairman D.P. Singh and presented a memorandum of suggestions regarding the implementation of the recently unveiled National Education Policy 2020. The suggestions were solicited after extensive interactions with numerous stakeholders and relate to issues ranging from holistic learning and institutional research to integrated higher education system and promotion of Indian knowledge systems. Among other things, the recommendations are aimed at advancing equity and inclusive learning in higher education as well as promoting India as a leading global study destination.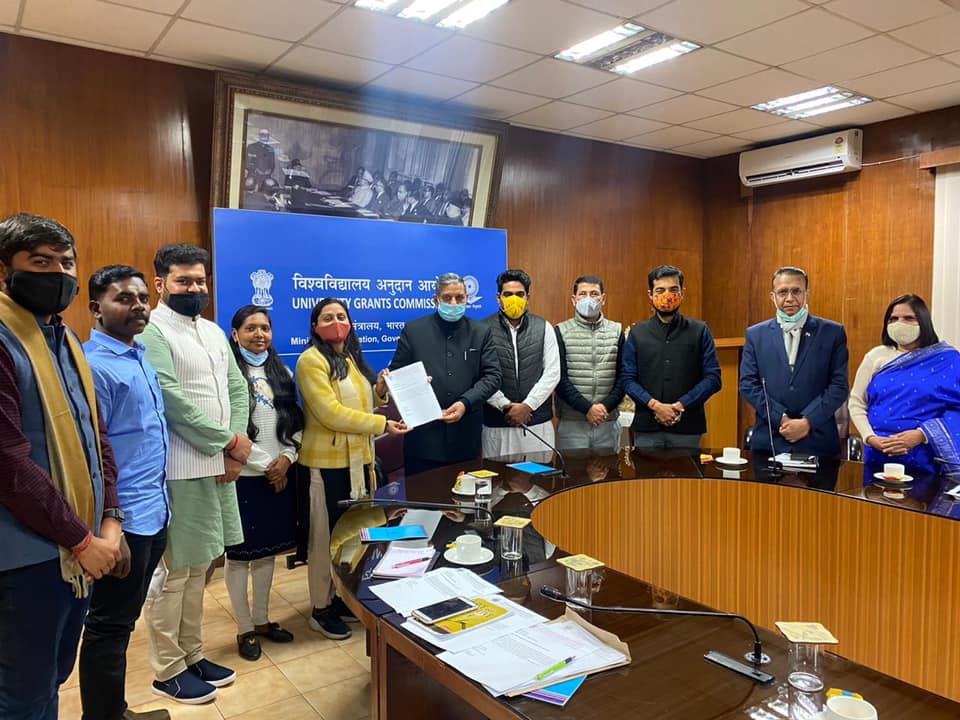 ABVP has recommended a revision of the IIT curriculum, focus on interdisciplinary research and novel methodologies for the integration of humanities and STEM (Science, Technology, Engineering and Math) at the undergraduate level, identification of select public and private universities as Research Institutions, which should mandatorily have in-house corpus funds in the form of University Research Fund, to be utilised for the purpose of research and promotion of innovation, start-up incubation with guidance from the NEP mandated National Research Foundation.
For inclusive higher education, ABVP has recommended greater cooperation between the Ministries of Education, Tribal Affairs and Social Welfare for the institution of special programs for the tribal, Dalits, and differently-abled students, collectively described as the Socially and Economically Disadvantaged Groups in the NEP 2020. More Kasturba Gandhi Balika Vidyalayas in every district along with the utilisation of the Gender Inclusion Fund primarily for the development of transport and health facilities for female and transgender students in rural areas has also been one of the major recommendations of ABVP.
Introduction of the 'Early Career Award' for excellence in research, converting temporary, ad hoc and contractual teachers' appointments into permanent, inviting top 100 global educational institutions to set up campuses in India as well as calling on the leading Indian educational institutions to set up campuses abroad.
Promotion of Indic-research and programs related to the study of uniquely Indian cultural traditions including textiles and cuisines, by way of Endowed Fellowships as well as by instituting Chairs supported by national and international philanthropic initiatives, setting up the Indology Research Foundation for promoting research and learning in Indian Philosophy, Indian Sciences, and Indic knowledge systems like Yoga and Ayurveda.
Nidhi Tripathi, National General Secretary, ABVP, said, "While the NEP 2020 is a very comprehensive document in itself and capable of addressing the multi-dimensional challenges in a satisfactory manner, based on our wide interaction with all the stakeholders in the field of education, we felt the need to apprise the Expert Groups of additional suggestions which could be useful in making the implementation of NEP more impactful and effective. We are hopeful that the suggestions will be factored in and implemented in the best interests of India's student community."