Malleshwaram, Bengaluru March 21. With the unity of the Hindu society, we can resolve all social problems of this nation. With this very objective of uniting Hindus, the RSS was founded by Dr Keshav Baliram Hedgewar' said veteran RSS leader Dr Kalladka Prabhakar Bhat in Malleshwaram, Bengaluru.
Dr Bhat was addressing at annual YUGADI Utsav organised by RSS Bengaluru Unit to commemorate 126th birth anniversary of Dr Keshav Baliram Hedgewar at Chandrashekar Aazad Maidan in Malleshwaram Bengaluru.
Nearly 1200 RSS Swayamsevaks attended the Yugadi Utsav. RSS Pranth Karyavah N Thippeswamy was on the dais. RSS Swayamsevaks from Dasarahalli, Malleshwaram, Marattahalli, Hebbal and Halasur zones attended this ceremony.
Basavanagudi, Bengaluru March 21.  'Dr Keshav Baliram Hedgewar who once was an active socio-political leader of  Nagpur, came out of the then Congress, did a kind of SWOT (Strength-Weakness-Opportunities-Threat ) analysis of the Hindu Society. This society itself  should  understand and realise  the problems and should find the suitable answer for them. To make such a self-thinking society, each individual should  be filled with morals and character, Dr Hedgewar founded RSS in 1925. Since its genesis, RSS focussed on Vyaktinirman, and today RSS has reached all walks of social life widening the horizons' said V Nagaraj, Kshetriya Sanghachalak of RSS at Basavanagudi in Bengaluru.
V Nagaraj was addressing YUGADI Utsav at APS College Grounds in Basavanagudi Bengaluru, organised by RSS Bengaluru Mahanagar. RSS Swayamsevaks from Vijayanagar, Jayanagar, Banashankari, Shankarapuram zones attended this ceremony.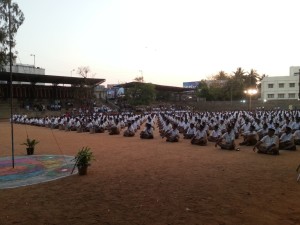 Dr BN Gangadhar, RSS Bengaluru Mahanagar Sanghachalak was on the dais. RSS senior functionaries Mai Cha Jayadev, Chandrashekar Bhandary,  KS Nagaraj, RSS Akhil Bharatiya Sah Bouddhik Pramukh CR Mukunda, RSS Pranth Sah Karyavah Prof BV Sreedhar Swamy, leaders of Sanghaparivar were present.
Swayamsevaks offered 'Aadya Sarasanghachalak Pranam', an annual salute to Dr Keshav Baliram Hedgewar, the RSS founder and the first Sarasanghachalak of RSS.