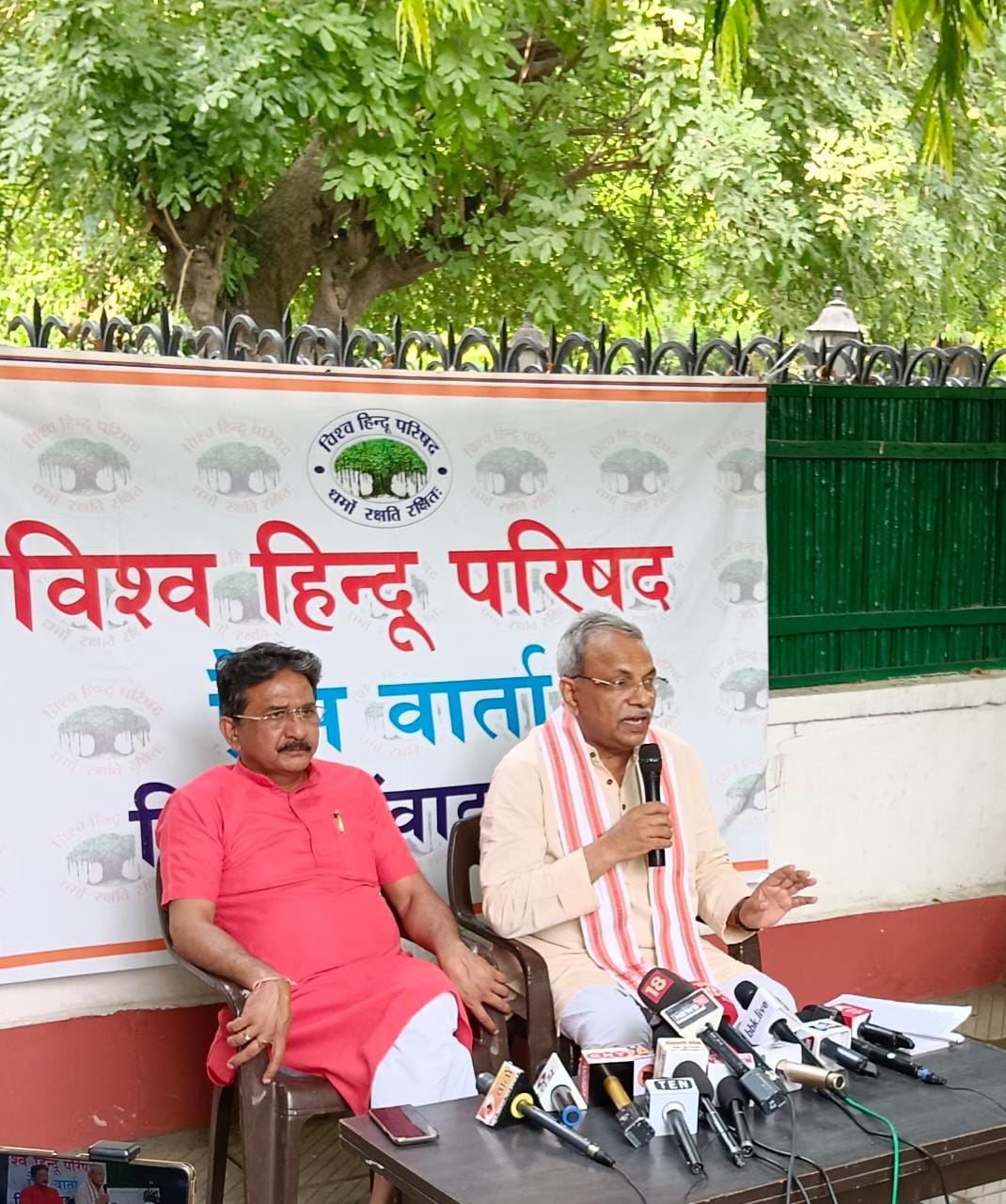 New Delhi. Central Joint General Secretary of VHP Dr. Surendra Kumar Jain has said that the series of violent attacks by Muslim society on the holy programmes of Ram Navami does not seem to stop. Odisha and Goa are considered relatively calm states. Even there, attacks on Ramotsavs are a matter of great concern. Recently, violent attacks were carried out on Ram Navami celebrations in more than 20 places including the JNU. Stones, brickbats, petrol bombs, acid bottles, etc., were thrown from roofs of houses. Waving forbidden weapons, jihadi mobs attacked Hindus. Attempts were made to outrage the modesty of women, temples were vandalized and even life-threatening aggressions were mounted on police personnel.
VHP believes that these attacks are acts of terrorism. Exemplary action under the NSA (National Security Act) should be taken against every attacker, their supporters and hosts, lone wolves and sleeper cells. Al-Zawahari's recent video makes it clear that this is an international conspiracy. The role of PFI – a terrorist organization – is now clearly coming to the fore. These violent attacks are getting financial, advocacy and political patronage from global anti-India tool-kit gangs. Unfortunately, most of the Muslim leaders of Bharat, the Congress Party and all the parties that have come out of its womb have been standing by these jihadi aggressors. Everywhere from TV debate panels to roads and courts of law, this tool kit gang has made massive mobilizations to give covering fire to the jihadi agenda and activities. Efforts to instigate Muslims on social media are also being made by many wealthy jihadis living abroad. In recent days, a big mobilization by these jihadi elements on social media was noticeable. They are leaving no stone unturned in creating anti-Bharat ecology. It came to the fore that 87% of such elements are operating from outside Bharat. Our contention is proved that this undermining plotting is being done under an international anti-Bharat design. It seems that they want to create a situation of civil war in Bharat.
Dr. Jain said that this barbaric violence is taking place in the so-called holy month of Ramadan. He said that one thing has become clear that those who raised the slogans of "MIM and Bheem" are also agents of PFI (Popular Front of India). The Scheduled Castes have always been at the forefront of combating the Jihadis. The agenda-led slogan of pseudo friendship with them is an attempt to do cheap politics on the lives and properties of Dalits. Now the disgusting face of such elements has also been exposed. Did even a single word come out of their mouth to condemn the attackers?
These incidents raise some fundamental questions –
Bharat was partitioned because of the dogmatism of the Muslim society that pushed a groundless "Two Nation Theory" on the basis of their Jihadi Sharia ecology. Even after independence, these jihadis find one excuse or the other to attack Hindus. CAA had nothing to do with the Bharatiya Muslim society, but at numerous places like Shaheen Bagh, Shiv Vihar, they broke law and order and attacked Hindus. The subject of hijab was the matter of a school uniform. But their jihadi mindset becomes clear by the way they threatened the High Court judges who delivered the judgment and also brutally murdered the boy Harsha! Some people say that those who loved Hindus in Bharat chose to stay in Bharat. If this is true then why do these incidents happen? Why till now no big Muslim leader opposed these violent incidents or anti-national activities? Why do they all seem to be standing by a terrorist like Murtaza? In fact, it was not their 'choice', but because as the Hindus showed fraternity and compassion and did not insist on 'total exchange of population' as was demanded by Dr. Bhimrao Ramji Ambedkar.
One thing is repeated ad infinitum that 'provocative' slogans were raised. Which 'provocative' slogans? How can 'Bharat Mata ki Jai', 'Jai Shri Ram' be 'provocative' slogans while raising 'Wajib-ul-Qatl' ('deserving murder') slogans like 'Sar dhad se judaa' ('You will be beheaded'), 'Bharat tere tukde honge' ('India will be broken to pieces') in programmes of fundamentalists are not 'provocative' slogans? The most provocative slogan in world history is – "La ilaha illallah Muhammadur rasulullah" ("There is no god but 'Allah', and Muhammad is the last messenger of 'Allah',"). Do they not try to provoke Hindus and for that matter any non-Muslim anywhere by five times trying to inject through high volume loudspeaker Azans everyday that – 'Only and only 'Allah' can be worshiped and none else and also there can be no messenger whosoever in the world after Muhammad'? If they justify attacks on Ram Navami under the pretexts of 'provocative' slogans, then what the Hindus should do against their slogans?
The society most affected by Islam is the Muslims of Bharat. The ancestors of 85% of the Muslims here were Hindus who were converted to Islam at the point of the sword, and that the conquered populace was given the choice of conversion or death. The converted people should naturally have hatred not reverence for those Muslim invaders. But the Muslims of Bharat seem to be suffering from Stockholm syndrome that is a coping mechanism to a captive or abusive situation. Under this syndrome they have developed positive feelings toward their captors or abusers over time. But fortunately, there is another section that likes to identify itself with Dara Shikoh, Raskhan and APJ Abdul Kalam as their role models. The voice of this other patriotic and nationalist section is getting suppressed and buried. Unfortunately, the ones who are on the same page with the invaders appear to be leading in controlling the Muslim psyche. That is why today these 'mis'leading Muslim figures including the brainchildren of the Razakars have been trying to inject the lemming syndrome into and misguide the Muslim society.
Bharat was partitioned due to the appeasement policy of the Congress. Unfortunately, this policy of the Congress did not change even after independence. The Congress and all the pseudo-secular parties born out of its womb are suicidally behind all forms of terrorism in independent Bharat. It is a fact that the banned terrorist organization "Students' Islamic Movement of India" (SIMI) flourished in Madhya Pradesh under the patronage of the then Congress Party government of Digvijay Singh and even today they have tried unsuccessfully to throw Madhya Pradesh into the fire of riots by tweeting a false fact. Instead of catching the rioters in Rajasthan, the way Gehlot's Congress government has banned all religious processions shows this mentality. The processions of Ram Navami, Mahavir Jayanti, Guru Tegh Bahadur, etc., have been banned but it is certain that this restriction will be lifted by the time the Muharram arrives. It is clearly discernible and obvious that the funeral procession of the Congress Party, which has banned the processions of Hindu festivals, will be taken out sooner than later.
It is a matter for consideration as to why riots do happen where Hindus are in minority? VHP seriously wants that we should not let the day come when Hindus start paying back the rioters in the same coin in Hindu dominated areas! This responsibility lies with all the enlightened people and political parties of Bharat. If this happens, then what will be the consequence can easily be imagined. But one fact must be remembered, where Hindus are in minority, they have always been beaten up, but will they continue to be beaten up there always?
VHP appeals to all the governments and political parties of the country to understand and appreciate the subordinate importance of their political interest vis-à-vis the national interest! Accept your responsibility to take the country on the path of sustainable development! They should keep in mind the lesson of history about what happened to Jaichand who supported Mohammad bin Qasim! Such is the fate of those who try to bump off national interest in support of their selfish agenda.
The VHP also calls upon the Hindu society that 'not Palaayan, but Paraakram' ('not escapism, but gallantry') has been the resolve of the Hindu tradition. Where the governments are taking strict action against the rioters, we must support the government there and where the governments are with the rioters we must awaken the Hindu gallantry there. We have to create conditions for living a life of self-esteem, refinement, grace and dignity without being afraid of jihadi rioters. A Hindu with determination, bravery and gallantry will not allow the jihadi conspiracies to succeed!