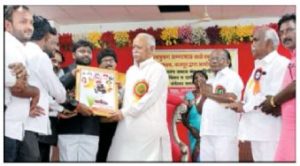 Nagpur. "ALL segments of Hindu community need to reach out to each other and stand united. And, various groups are coming together in this direction, said Dr. Mohan Bhagwat, Sarsanghchalak of Rashtriya Swayamsevak Sangh (RSS).
Dr. Bhagwat was addressing a gathering of Matang community organised by Sahitya Bhushan Annabhau Sathe Smarak Samiti at Chichbhuvan in Nagpur, on Thursday. Sudhakar Bhalerao, MLA, Ashok Bhave, President of the Samiti, Lahanu Ingle, Executive President, Wamanrao Amte, Dilip Agre, Madhukar Kasbe, Madhukar Kamble, Asha Bawane, Pramod Khandale, corporator Jayshree Wadibhasme, Purushottam Mankar and other dignitaries also shared the dais on the occasion.
In his speech, RSS Sarsanghchalak said that RSS believed in unity of Hindus. "Hence, RSS never organized programmes for smaller groups. It organises Hindus as a whole. After Independence of India, divide between various social groups widened, but now Hindu community has realised this and efforts are onto bridge the divide," he said.
To bridge the social divide, RSS is organising various programmes. As part of its celebration of 3rd Sarsanghchalak Balasaheb Deoras birth centenary, RSS is taking up a programme to convey the message that water, temple, and crematoriums should be common for all castes and social groups, he said.
Referring to the lament of Matang community that it had remained a neglected lot despite being in Scheduled Castes, Dr. Bhagwat Ji said that education and unity would yield results for them.
Though RSS was not a political organisation, he said, it would convey sentiments of Matang community to the people in the Government and politics. He asked Matang community members to be in touch with RSS workers in respective areas.
Earlier, Ashok Bhave made introductory remarks. MLA Sudhakar Bhalerao rued that Matang community was deprived of reservation benefits though it was in Scheduled Castes. Pradeep Borkar and Dilip Agrealso spoke on the occasion. Dr. Mohan Bhagwat Ji released books written by Bhave.
Sucheta Kawale conducted the proceedings and Yogesh Dhankasar proposed a vote of thanks.