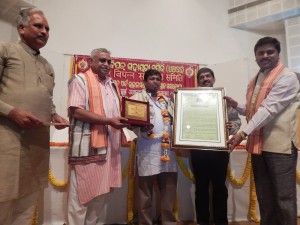 Bhubaneswar. In a colour full Annual Function of Utkal Bipanna Sahayata Samiti (UBSS) held at IDCOL Auditorium. Utkalmani Seva Samman – 2015  was awarded to Sri Rabindra Nath Ray eminent teacher, Social Activist of Malkangiri was being felicited with Utkalmani Seva Samman – 2015 . Sri Ray a social worker working in the remote under delved area has changed the life of many poor tribal's  student s giving  them guidance and financial help for pursuing  their higher studies. Sri Roy is awarded the Prize in consideration of his continuous service by organising number of blood  donation camps and himself donated blood more than 20 occasions.
The function was attended by social workers and eminent persons  was addressed by  Sj. Manmohan Vaidya, Akhila Bharatiya  Prachar Pramukh, Rashtriya Swayam Sevak Sangh as Chief Speaker. Sri Vaidya jee analysed  the meaning of word 'Dharam' which is often misinter preted as religion which is totally in correct. The word 'Dharma' wich denotes  property  of a thing or duty of a person  like Property of water, fire etc. and  duty of father, mother  and a neighbor.  He advised instead of amassing wealth  one should make sacrifice for  wellbeing  of the society, particularly for those are under privileged. Every person should give time for service  to our society and mother land. He said Manav seva is Madhav seva.
Sri Ashok Kumar Sahoo, E.D, NALCO joined as  Chief Guest narrated his experiences of humanitarian activities  along with his duties  as an executive of the NALCO.
Dr. Banabihari Mishra, Head of the Department, Cardiothoracic Surgery, KIIMS, Bhubaneswar was the Guest of Honour who expressed of joy and satisfaction  derived while treating helpless patients  undergoing acute  suffering and pain.
Sj. Prakash Betala, President of UBSS presided over the function, Sj. Mansukhlal Sethia, Secretary of UBSS gave an account of the activities of UBSS.
The Souvenir, "Seva Samarpan" was Inaugurated  by the guests which was compiled by a group of editors such as Sri Kailaslh Chandra Senapati, Sri Swayam Prakash Baral and Sri Niranjan Tarai with Dr. Bijay Kumar Swain as the Chief Editor. Sri Indramani Send UBSS gave  vote of thanks and after singing of National Song "Vande Mataram" and with the appealing cultural / dance presented  by the inmates of Simadri Mishra Janajati Chhatravas (Banavasi Kalyan Ashram) the function came to an end.