JNU Ka Such programme at Nagpur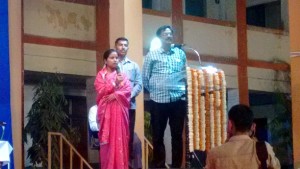 Nagpur. 'Anti National Slogans at some universities in India make me very angry' these were the words of Smt. Mahadevi, widow of martyr Lance Naik Hanumanthappa Koppad. She was speaking at an event 'JNU ka Sach' organised at Nagpur. Entire family of Lance Naik Hanumanthappa Koppad including his mother, wife, brother and his 2 year old daughter were present at the event.
Sunil Ji Ambekar, National General secretary of Akhil Bharatiya Vidyarthi Parishad (ABVP) was the main speaker. In his address he said that the unfortunate incidence of  9th Feb at Jawaharlal Nehru University was not the first one but many such incidences have occurred in past there. These types of activities are happening across some universities in India. People with leftist ideology are behind this. In JNU they demand freedom for Kashmir while in Jadavpur University, they raise slogans like Nagaland ki Azadi, Manipur ki Azadi (Freedom for Nagaland, Manipur). It is done in a very planned and systematic manner. Anti-national thoughts are fed to new students.
ABVP has been opposing such anti nationals and their anti national activities for long. Many ABVP workers have been murdered by the naxalists. In Kerala our student members Vishal and Sachin were murdered within the campus. The responsibility to fight with such type of attack on India is not that of army but of the society. People should understand the divisive powers and stop them.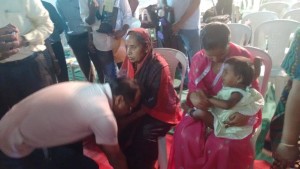 Speaking about academics he said that our history has been distorted multiple times. Our students are taught about Napoleon but when it comes to the history of Bajirao, they have no idea and they have to watch a film to know more about him. It is very important that right values are taught through text books. The topics on which research is done in JNU is very surprising and we are coming out with the complete list very soon.
He also expressed optimism in the people of the country. He shared a recent experience. Gen. G. D. Bakshi and 9 retired top army officers had visited JNU few days back.  500+ patriotic students of JNU had gathered to listen to them. In another incidence, a strike by teachers of JNU was called off because all the class 3 class 4 employees opposed it and had decided to open the university in case teachers go on strike. The ABVP students at JNU were delighted when they got to know that citizen of Nagpur have organised such event.
A replica of Amar Jawan memorial was created at the venue and floral tributes were paid to the martyrs. Pravin Datke Ji, Mayor of Nagpur presented a momento to the family. Col.(Retd) Deshpande Ji also spoke at the occasion. Kanchan Gadkari Ji, chairman of Sevasadan society was present on the dias. The event was attended by large number of citizen of Nagpur. Prominent among them were Rajesh Ji Loya (Nagpur Mahanagar Sanghchalak), Dr. Vishram Jamdar (Chairman of VNIT, Nagpur).