Kochi, Kerala. VHP International Secretary General Milind Parande said that Ayodhya movement would not end with the consecration of the Shri Ram Mandir in Ayodhya. Every Bharatiya should accept the values Shri Ram practised in his life; then only this mission will be fulfilled. He was addressing a gathering in the Labour Training Centre of BMS state committee in Kochi. He was delivering the lecture under the Kesari Amruth Shatam Lecture Series, organised by Kesari Malayalam weekly. The lecture was on Shri Ram Janmabhumi – "Yesterday, Today & Tomorrow". Parande Ji explained the history of Ram Janmabhumi movement, legal fights, final Supreme Court verdict, progress in the temple construction and so on.
The lecture was an eye-opener for the audience. Because, some ordinary Keralites and self-styled intellectuals have been viewing Ayodhya issue as something of "northern" significance. This is what we see in the political scenario also. Keralites always deviate from the mainstream national pattern. When parliament and Kerala assembly elections were carried out simultaneously in 1977, under fascist Emergency declared by Smt. Gandhi, majority of the Bharatiya voters took it as an opportunity to throw away the fascist regime; but Keralite gave thumping majority to the Congress-led United Democratic Front in the state assembly elections. It was despite the brutal police torture anti-Emergency activists suffered in the state.
Parande Ji alleged that these days, pseudo secularists keep on propagating that endeavours are on to create Hindavi Ramarajya. This is a sinister and false propaganda. The concept of Ramarajya is a symbol of our cultural entity which has evolved due to the collective efforts of all sections of our society from time immemorial. The movement's presence is evident in our country now. It is a proud experience. He explained in his speech the history of the Ayodhya temple, current status of Ayodhya temple construction, needs of tomorrow and the future plans.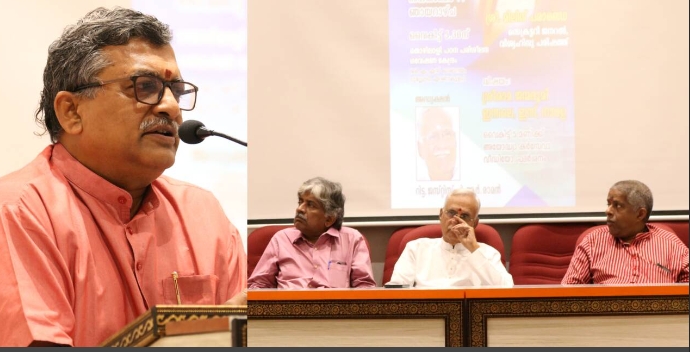 Justice (Retd.) P.R. Raman presided. VHP state joint secretary Abhinu Suresh welcomed the gathering. Kesari Editor Dr. N.R. Madhu proposed the vote of thanks. Kochi's prominent 'Who is who' were present during the occasion.
The programme which was scheduled to take place at Kesari Bhavan, Kozhikode, was shifted to Kochi in the wake of the recent reemergence of the dangerous Nipah Virus in Kozhikode. Even though the change of the venue from Kozhikode to Kochi was at a short notice, an impressive gathering turned up to hear the lecture.
Kesari Malayalam weekly carries out Kesari Amruth Shatam Lecture Series in connection with the centenary of Rashtriya Swayamsevak Sangh (RSS). The periodical programmes have been chalked out by Kesari in this regard. Several national leaders of high esteem have already visited Kozhikode to address the Amruth Shatam gatherings.
According to the schedule, all lectures are expected to be carried out at the new building Kesari Bhavan.