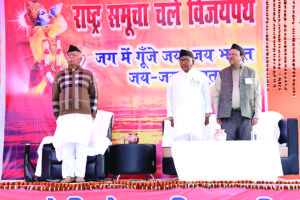 Patna. RSS Sarsanghchalak Dr. Mohan Bhagwat Ji said an RSS swayamsevak works with self-inspiration. The organisation does not help anybody in addressing one's fear, reactions or antagonism. Addressing a gathering of swayamsevaks at a 'shakha' in Rajendra Nagar he said  Bharatiya culture is not about unity in diversity, but it is about diversity in unity.
Speaking about the aims of the RSS, Sarsanghchalak Ji said any outsider would view it as if the Sangh is trying to increase its influence in the society. But one who perceives it keeping in mind the working of the RSS, can understand the secret of it. That Bharat is widely acclaimed in the world, and it becomes a glorious and prosperous nation is what the RSS has been working for. People get to know the Sangh through the conduct of swayamsevaks, Any swayamsevak works in order with a complete sense of submission. That is why the society's expectations from the Sangh have increased. There is no field of society where the swayamsevaks have not undertaken work and within few decades there has been impressive transformation those fields.
He said the country got freedom with the efforts of great persons. But what are the results? Dr. Hedgewar Ji took part in the freedom movement, he addressed functions, worked for swadeshi, brought out a newspaper. All this made him understand that this would not lead to freedom in real sense, so he laid the foundation of the RSS.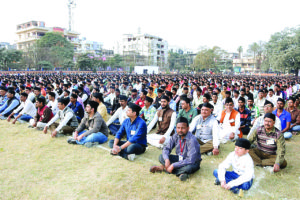 An RSS swayamsevak works selflessly with self-inspiration. The purpose of his service is to keep the society healthy. In Shakha he works with a feeling of self-sacrifice and takes it as his duty to inspire others to tread the same path, This is how the glorious society in the country would be built.
He said the prosperity of the nation is possible only with the prosperity of a common man. Without the prosperity of a common man, a nation cannot prosper. The history of the world shows it. He called upon swayamsevaks to strive for the prosperity of a common man and kindle the feeling of patriotism in every house.