Hertfordshire. Bob Blackman, MP for Harrow East and Chairperson of All Party Parliamentary Group for British Hindus praised the Youth Leadership, training and character building activities of HSS UK while addressing over 800 packed audience at the concluding function of the Sangh Shiksha Varg (SSV), a 9 Day residential youth leadership training course on Sunday 3 August 2014. The Course is an annual event of HSS which was held at the Roundwood Park School in Harpenden, Hertfordshire.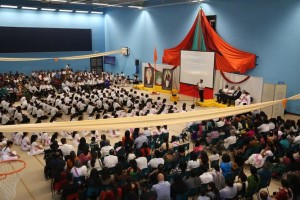 In a short but inspiring speech which emphasised on HSS contribution of Sewa, Hindu Dharma and young leaders to the mainstream life of UK, Bob said "This is not my first visit to HSS summer camp. My first visit was in 1992 in Leicester.I saw there what I see here now. Young people learning the benefits not only of physical education, not only of mental education but also learning as individuals and as part of a team."
Praising HSS, he said "We should dispel myths that have grown about HSS. Such stories that it is a paramilitary organisation, that it trains people to hate other people need to be challenged.  What you see is that it trains people to be physically fit and who would think that is a bad thing. It trains young people with mental education as well and teaches meditation. It enshrines core values of Hinduism which is to create a peaceful world. Who would think that is a bad thing? Being peaceful is the core value of Hinduism and to maintain peace one needs to be vigilant."
Leadership, teamwork and discipline are the three of many important qualities that 110 boys (Hindu Swayamsevak Sangh UK) and 53 girls (Hindu Sevika Samiti UK) developed in this course. Each morning the participants arose at 6 am and began their day with prayers and physical activities such as Yoga , games etc. Later during the day they were engaged in intellectual activities in form of discussions, role-plays, and lectures, designed to increased their knowledge and understanding of the Hindu Dharma.Each participant also chose one physical and one intellectual subject to master over the nine days in focused workshops on subjects like Public Speaking, History of Hinduism and Mahabharata. The day would end with a special night time activity in the form of team building exercises, role-plays or a singing competition. This let the participants wind down after a packed day and developed many soft skills helpful in the society and workplace.
The last day of the course was a public function known as Samarop where the participants would showcase their talents in front of their parents and guests. The Samarop ended with Nilesh Solanki (2014 Course Leader& Head of PR for HSS UK) delivering a powerful, inspiring speech consisting of personal anecdotes addressing religious conversion, grooming and other challenges faced by Hindus in the UK.
Prominent personalities like Haribhai Halai – President Hindu Forum of UK and Bharati Taylor – Hindu Forum of Europe and a visiting group of Akhil Bharatiya Sahitya Parishad including its National President Balwant Bhai Jani attended the samarop.
The nine day training course created future leaders in the workspace, society and more importantly the Hindu Samaj. The theme of universal peace and oneness echoed throughout to inspire these future leaders who would benefit the communities and embrace the world as one family.