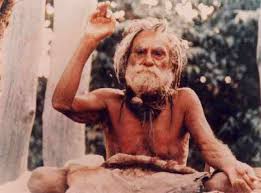 Devraha Baba (died in 19 May 1990 also spelled Deoraha baba was an Bharatiya Siddha Yogi saint who lived beside the Yamuna river in Mathura. He was known as "ageless Yogi with a secular image" He was known as a sadhu who preached harmony between religious communities.
Little is known about the early life of Devraha Baba, beyond that in the first half of 20th-century, he visited Mael, a town 20 km. south west of Salempur, Uttar Pradesh. Here he started living atop a Machan, a high platform made of wooden logs, situated 3 km from the town on the banks of Sarayu River. The place was near Dewar in Deoria district, thus local people started calling him Devraha Baba or Deoria Baba, with Baba being an honorific for saints or old men. Thereafter he shifted to Vrindavan, where again he lived atop a machan on the banks of Yamuna river for the rest of his years.
Devraha Baba was a hermit from Vrindava. He was considered to be a "spiritual guide to everyone from a pauper to the most powerful … above narrow confines of caste and community." Village people as well as important personalities waited for hours to have a glimpse or darshan of him. He received visits from politicians seeking his blessings at the time of general elections, including Indira Gandhi, Buta Singh, and Rajiv Gandhi. Rajiv Gandhi and his wife Sonia Gandhi visited his ashram on the eve of the 1989 elections. He used to bless the devotees with his feet.
He lived on a 12-foot-high (3.7 m) wooden platform near the river and wore a small deerskin. A barricade of wooden planks hid his semi-naked body from his devotees, and he came down only to bathe in the river.
Devraha Baba's name was included by the Liberhan Commission on the list of those accused of demolishing the Babri Masjid, even though he died two years before the demolition of the structure. Vishwa Hindu Parishad had been successful in persuading Devraha Baba to support their cause of building a Ram temple at Ayodhya, and indeed as a harmonious, joint effort between the various religious groups.Tully also observed that some of Devraha Baba's devotees approached him for financial as well as political gains.
There are various claims of his longevity, starting from 150 years and above but verifiable records are not available. He was called "ageless Yogi with a secular image". BBC correspondent Mark Tully observed that local people believed Baba died only when he wished to.
It was believed that Devraha Baba had lived for over 700 years. Baba was called, "The Ageless Yogi." Devraha Baba gained mastery over the khecheri state of yoga whereby he was able to control his hunger and the time of his death. Dr. Rajendra Prashad, who was the first president of Bharat verified Devraha Baba's old age. He said that he personally attests to Devraha Baba being at least 150 years old. He said that when he was 73 years old, his father took him to see Baba, who was a very old man, and that his father already had known Baba for many years before that. An Allahabad High Court Barrister had stated that seven generations of his family had sat at the feet of Devraha Baba. Incidentally, Devraha Baba had predicted the time of his death five years in advance.