Kozhikode (VSK). 'Burn The Hijab' protest in Kozhikode is the first incident of that sort in Bharat. Some Muslims believe, it is the religious attire. There were incidents of expressing solidarity with the Iranian protesters in the past. But, the burning of Hijab is the first incident, obviously it has shocked the entire population, both in favour and against. The programme was organised in Kozhikode Town Hall on November 6 as a pilot programme prior to the "Swathanthralokam" (Free World) seminar in Malappuram on December 18, 2022.
'Fanos' was a 'Free Thought Seminar' organised by the Kozhikode and Malappuram district committees of Kerala Yukthivadi Sangham (Kerala Rationalist Association). Those who came for this programme gathered near the Kozhikode Town hall and burnt Hijab in public. Young women participated in it in large numbers.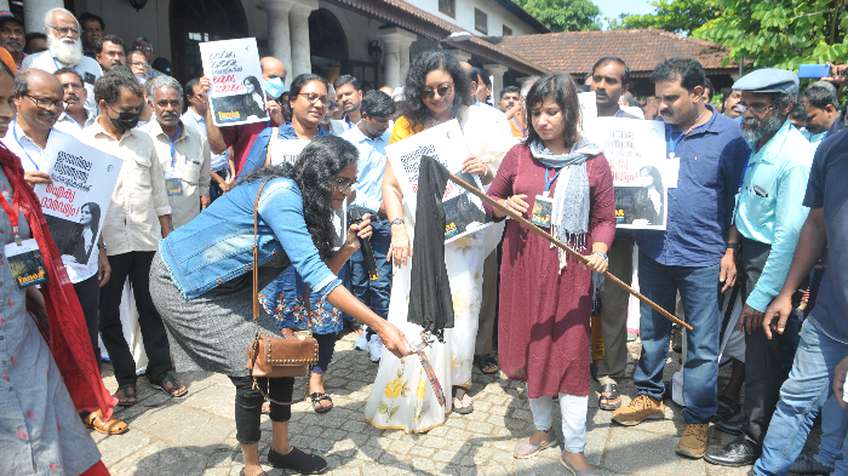 Islamic Fundamentalists are shell-shocked after this incident. This revolutionary incident took place while agitation is going on in Providence Women's College, Kozhikode City against the authorities for not permitting Hijab in the campus and class. The Free Thinkers have challenged the fundamentalists.
Several papers were presented in the seminar held in the Town Hall. "The Ambedkar Brand", "Sharia Law & Me", "Hindu, Hindutva, Nasthikatha", "Deen & Duniyavu", "Mythukalude Raashtreeyam", "Karunyathinte Route Map", "Aradhana" and "Masthishkam Mayankumbol" were presented by Anu Mohan, Shamla Cheenikkal, Dr. C. Vishwanathan, E.A. Jabbar, Dr. Malavika Binni, Geordi George and Liyaqath Ali and Ruksana Mahmod respectively.
"Burn the Hijab" programme has underlined the fact that there are people from within the Islamic community to give befitting reply to the fundamentalists.