NGO 'Call for Justice' submits Delhi riots fact finding report to Home Minister Amit Shah
Report states AAP and other Left political parties responsible for hate speech and misinformation
New Delhi. Report of the Fact Finding Committee constituted by Delhi-based NGO, Call for Justice, on the recent riots in North-East Delhi was presented to Amit Shah, Hon'ble Union Home Minister, Government of India, on May 29, 2020. The delegation which presented the Report consisted of Neeraj Aarora, Advocate, Supreme Court; Neera Mishra, social entrepreneur; and Trustees of Call for Justice – Chandra Wadhwa and Ankit Goel.
Call for Justice had constituted a Fact Finding Committee comprising the following eminent persons –
Justice Ambadas Joshi (Retired Judge, Bombay High Court) – Chairperson
M.L. Meena (IAS Retd.) – Member
Vivek Dubey (IPS Retd.) – Member
Dr. T.D. Dogra (Former Director AIIMS) – Member
Neera Mishra (Social Entrepreneur) – Member
Neeraj Aarora (Advocate) – Member Secretary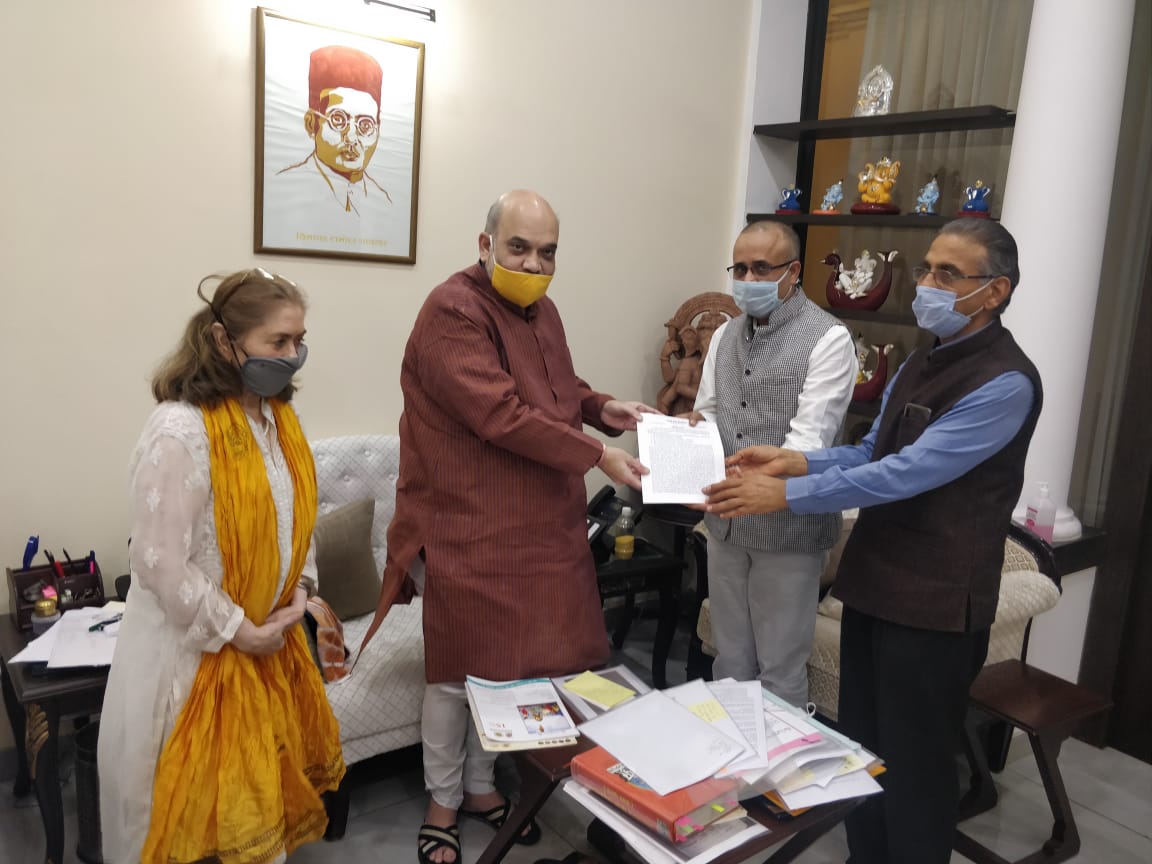 The Committee visited the riot affected areas on 29th February and 1st March, and examined the victims, eyewitnesses and recorded their testimonies. After an in-depth analysis of the entire ground situation, the Committee prepared its detailed report. In the report, the Committee found that after passing of The Citizenship Amendment Bill in December, 2019, an artificial wave of protests was created throughout the nation and a couple of months later, a large scale violence was triggered following a pre-planned and organized attacks by radical groups under the banner of anti-CAA protests in the North-East Delhi, all while the President of the United States was in the city for a bilateral visit. The unresolved socio-political issues pending for prolonged periods were eventually resolved including Triple Talaq, Article 370, and the Ram Janmabhoomi during 2019 which somewhat brought out the anger simmering in several radical groups which were working against the interests of India and its people. While CAA, 2019 did not reflect any adverse ramification for any citizen of the country irrespective of cast, religion or community and therefore, anti-CAA radical groups such as Pinjra Tod, Jamia Coordination Committee, Alumni Association of Jamia Milia Islamia, Popular Front of India (PFI), etc., and local politicians from AAP, suddenly, after election in Delhi, were losing ground amongst the public and in order to keep the issue burning, these groups spread misinformation narratives targeting different segments of the society in a synchronised manner, which ultimately pushed the Muslim community into a corner. With a conspiracy in mind, these radical groups mobilised resources, financial, manpower & others and in a concerted manner pushed the Muslim in the North East to attack Hindu community which triggered the riots. The objective of the attack was to create a permanent atmosphere of hostility between the Hindus and Muslims and these radical groups accelerated misinformation, hate speech campaigns using Anti-CAA as a basis. Since people in these areas are not much educated and also poverty ridden, members of these groups penetrated into the community and started campaigning in small groups, brain washing, programming and wiring them to achieve their illegal designs. While these groups exploited the Muslim community for their ulterior objective of dividing the country on communal lines, the Hindu community was totally unaware about the attacks meticulously planned by these radical groups belonging to the Muslim community.
The testimonies revealed that in order to augment the hate speech narrative and map it with emotions, fear and religion, these radical groups managed to get the narratives delivered from the Mosques in daily meetings through Imams and also through the Azaan, broadcasted from loudspeakers in these localities multiple times daily. After pre-planning and organizing, these radical groups executed the attacks using heavy quantities of stones, petrol bombs, catapults, country made guns, acid packets, etc. A large number of youngsters, approx. 7000, largely in the age group of 15-35 comprising outsiders and locals led the attacks along with Bhim Army, resulting in taking lives of 53 people including one IB official and two Delhi Police personnels, and injuring more than 200 people. Additionally, damage was endured by 92 houses, 57 shops, 500 vehicles, 6 godowns, 2 schools, 4 factories, and 4 religious places, to a tune of Rs. 1000 crores. More than 718 FIRs have been registered and a total of 3400 people have been detained or arrested.
The Committee's recommendations are extracted below –
Compensation to victims for the loss of life, damage of properties should be given without delay and without any discrimination.
Initiate Confidence Building measure to restore the normalcy and also to prevent the outflow of people affected by the riots.
To collect electronic evidences from the public, national / international media to identify and prosecute the offenders.
To identify perpetrators of misinformation on social media & prosecute them.
Trial of the riot cases should be expedited in the designated courts.
Efforts should have been made by the Police machinery to collect intelligence beforehand.
To investigate into the role of terrorist/Islamic outfits, Bangladeshi groups through Rohingyas, who were behind fermenting the riots.
To identify the organisations/outfits/persons who financed these activities and to take strict action against them.
To initiate for removing the wrong apprehension of the people about CAA.
Diligent monitoring of social media on real time basis by the Govt. agencies to prosecute the offenders circulating misinformation.
Intermediary/social media platform 'WhatsApp' providing for anonymity in communication to be blocked.
To identify fake news websites circulating hate speeches, misinformation campaigns and to prosecute them.
Considering involvement of PFI, ISI & other inter-state and international groups, investigation must be done at NIA level.
To take effective steps to prevent the reoccurrence of such incidents in future in any part of the country.
For further information and full report, please visit www.calljustice.in