'Vimarsh 4.0'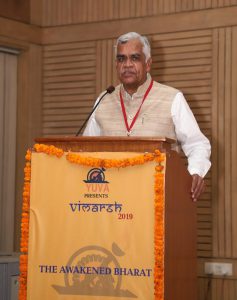 New Delhi. Youth United for Vision and Action commences with its three-day annual conclave "Vimarsh-2019" at the conference Centre of Delhi University, North Campus on Saturday. With "Awakened Bharat" being the theme of the event, this year's editionis also aimed to guide the students in the direction of Rashtra Sewa through academic and cultural discourses.
The inaugural session of "Vimarsh4.0"  started with the presentation of Vimarsh's prelude by event convenor Dr. Saurabh Ji followed by session chair Dr. Payal Mago, Principal of Shaheed Rajguru College of Applied Sciences for Women delivering her talk on the cognitive and touching part of women empowerment. The talk-session was inaugurated by Shyama Prasad Mookherjee Research Foundation's Director Dr. Anirban Ganguly who delivered an enlightening discourse on the topic of "Awakened India" in which he put forward the cultural, academic and historical aspects. Dr. Neeraja Gupta, Principal, Bhawan College of Arts and Commerce also shared her insights on the topic.
The parallel sessions witnessed talks on "The Saga of Indian Freedom Movement" by Prof. Raghuvendra Tanwar and Dr. Geeta Bhatt; "Dara Shikoh: a true nationalist Mughal" by Prof. Heeraman Tiwari and Prof. DN Das; Talk on "National Register of Citizens" by Dr. Nandita Saikia, Adv. Upamanyu Hazarika and Prof. Milap Punia and "Judicial Appointments, Activism and Review: A Bermuda Triangle" by Mr. Nitish Rai Parwani and Mr. Siddhant Sijoria. While, students were also encouraged through events like "Success Stories" and "Open Mic".
The evening common session was headed by Rashtriya Swayamsevak Sangh's Akhil Bhartiya Sampark Pramukh Anirudh Deshpandey Ji who delivered an enlightening discourse on "Indian Education: Past, Present and Future". He said, "In India, education has never been a medium of livelihood only but majorly for knowledge and social service." While encouraging students he said "the destiny of the country is in the hands of the people sitting in the classrooms". He also redefined the term 'career' and said "'Careerism' is the latest 'ism'."