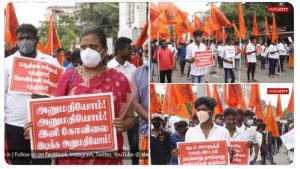 Chennai. On Tuesday, the Coimbatore City Corporation had demolished seven temples, including a 100-year-old temple, along the Muthanankulam bund in the city. The corporation had claimed that the temples were built on the encroached land along the northern bund of the tank.
After the Coimbatore city corporation demolished seven Hindu temples on the lake bund of Muthannankulam, several devotees, Hindu organisations, took to the streets of Coimbatore to protests against the demolition drive of Hindu temples. Vishva Hindu Parishad (VHP) had also condemned the demolition of temples. Muthanankulam
Protesters said that several government offices, including the Tirupur collector's office, are on temple lands, hence those buildings should be removed from the lands.
According to the reports, Hindu Munnani protested outside the corporation office at Town Hall in Coimbatore on Friday to condemn the civic body for the demolition drive.
Condemning the demolition, Hindu Munnani state president Kadeswara Subramaniam said, "When P.V. Narasimha Rao was the Prime Minister, an Act was passed in Parliament prohibiting demolition of temples older than 75 years. But the Coimbatore corporation demolished temples that were centuries-old. We strongly condemn the demolition".
"The Hindu religious and charitable endowment (HR&CE) minister has been saying that the department will retrieve temple lands and protect temples. He should reveal information regarding," Subramaniam said.
Hindu Munnai state secretary JS Kishorkumar accused the Coimbatore corporation of deliberately targeting temples in the name of removing encroachments and claimed that temples as old as 150 years old were demolished in the city.