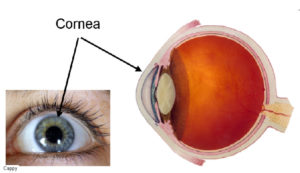 Bengaluru. SAKSHAMA, an RSS inspired pan-India organization working for the empowerment of physically challenged and differently abled people, is set to launch a public awareness campaign, "Cornea Andhatav-Mukt Bharat Abhiyan" (CAMBA) to promote awareness about eye donation.
As part of this fortnight long eye donation awareness campaign, starting from 25th August to 8th September, various programs are being organized throughout Karnataka. On Sunday, 28th August, RSS Swayamsevaks will visit the homes of general public in many locations in their respective districts, will spread awareness about corneal blindness and eye donation among the people in those locations.
Eye donation awareness rally (Blind Walk), Street Play and Competitions for students in schools and colleges, Human chain, House to house visit, Publication of articles, Spreading awareness in social media and many more activities are planned in this fortnight longawareness campaign.
Purpose of the Cornea Andhatv Mukt Bharat Abhiyan (CAMBA) –
Presently, as estimated, the number of eye donors is only 25,000 in India. Increasing the pool of eye donors to 2-4 Lakhs is one of the aims.
Emphasize opening of eye banks in each district of the State
Increasing the number and availability of experts in Cornea Treatment and Surgery.
Clarifying misconceptions about eye donation among common people and inspiring them to donate their eyes.