Chennai. During the Covid-19 pandemic, the role played by the medical fraternity, conservative workers, Police personnel, health workers etc., has been remarkable. They risked their lives and walked extra mile in performing their work. Bharati Seva Sangh and RSS honoured the Conservative workers in various places of Tamilnadu by doing Pada Pooja and distributed sarees, dhoties, provisional kit etc.
Remembering the dedicated work of conservative workers on the Deepavali occasion, a simple function was organized in front of Pranta Sangh Karyalaya to honour the conservative workers of Chetpet area surrounding the Sangh Karyalaya (23.11.2020) morning. The inmates of Sangh Karyalaya, the inmates of the houses adjoining the Sangh Karyalaya along with the conservative workers attended the function.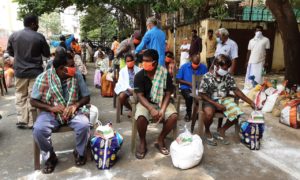 S. Rajendran, Secretary of RSS for Tamilnadu and Kerala addressed the gathering and highlighted the relief work carried out by the Swayamsevaks during the pandemic as well as during other calamities. All such activities are done so that the society is benefited. He also praised the invaluable service rendered by the conservative workers during the pandemic.
A. Ramakrishna Prasad, Jt.Secretary, RSS, Uttar Tamilnadu brought forth the fact that the conservative workers are carrying out the similar work being done by animals, plants etc., i.e., to grow and be useful to the society. They do this on a daily basis and walk an extra mile during major events/calamities. He cited the example of the extraordinary role played by the conservative workers in Uttar Pradesh during the Kumbh Mela. Prime Minister not only praised their work but also washed the feet of 5 conservative workers. Bharati Seva Sangh and RSS also has recognized the dedicated work carried out by the conservative workers during the pandemic and has honoured them by performing Pada Pooja and distribution of sarees/dhoties, Provisional kit etc.
All the conservative workers totaling 56 were honoured with a shawl and distributed, bed sheet, around 1000 rupees worth provisional kit, sweet box, homeopathy medicine, ointment etc., individually. The simple function became very emotional, which was explicit both on the faces of those who honoured and those who were honoured. Immediately on conclusion of the function, a woman conservative worker spontaneously remarked that nowhere else they have been honoured in such a manner and blessed the workers of Bharati Seva Sangh.