Deepavali Utsav in Dubai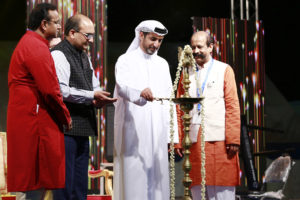 An amazing celebration was witnessed at the Etisalat Academy Ground on account of  'Deepavali Utsav 2018', organised by FOI on 26th Oct 2018, under the auspices of Consulate General of India, Dubai.
After the lighting of the lamp by the Consul General of India, Lt. Col. Tareeq from Dubai Police, along with other officials; H.E. Vipul Ji, Consul General of India who was the Chief Guest, spoke about Unity in Diversity which is the foundation on which the edifice of India is built.
The event commenced with play of national anthems of both countries by the Special band from "Dubai Police". Consul General of India is thankful to Dubai Police for attending the event and extending their support.
FOI events felicitated Ritesh Ramakrishnan Ji,Vice  Chairman of Transworld Group, with the title of 'Yuva Pratibha' for his leadership and for being a successful young entrepreneur.
More than 8000 people joined in the celebrations. The event started with 'Rangoli' competition (decoration with flowers and coloured sand) in which 50+ teams have participated, that witnessed tremendous creativity from the participants. Each Rangoli decoration outscored the other and judges had a tough time choosing the winner.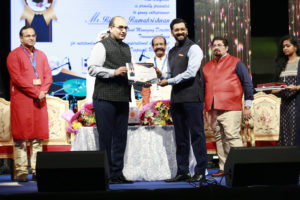 The ambience was live and energetic with traditional Indian games such as, 'AatyaPaatya', 'Kho Kho' and 'Laghori'. They became the highlight of the event, especially for those guests who witnessed it for the first time.

Memory Games, Shooting the balloon, Ball in bucket, Sixth sense, Indian History, 'Bharatiya Nari' and many more such fun activities added to the funfair-like atmosphere. It attracted large participation from the attendees.

More than 14 different states artists performed the Folk Dance of the respective states which caught everyone's attention by display of outstanding footwork and co-ordination in their choreography. There was a special inclusion dance along with the Special Children was performed by the Prerena team, which was appreciated by all.

About 18 different states's food was made available through various caterers at the venue. In additional to that many stalls for Deepavali items were also displayed for sales.

We are grateful to the award-winning singer Naresh Iyer featured along with Bennet and band who got the crowd all cheerful and excited with their electrifying performances.

Shri. Kiran Kumar, former chairman of ISRO, along with prominent Indian community members and Pravasi Bharitya Samman Awardees Vashu Sheroff Ji and Bharat Bhai, also Naresh Bavnani Ji, Consuls from Consulate of India and many others have participated in the event.

Overall it was a grand Deepavali Mela and everyone truly enjoyed the event.

/?php if(of_get_option('disable_share') != true) { ?> /?php echo mom_single_share(); ?> /?php } ?>
About The Author
Related posts
Leave a Comment