Contacting 650 million people of 5.25 Lakh villages in 44 days will break the Records
Karnavati. Addressing a press conference VHP Central Joint General Secretary, Dr. Surendra Jain said, "I feel proud of coming to Gujarat – the Karma-Bhoomi of Bhagwan Sri Krishna on the auspicious Geeta Jayanti! Heartiest Geeta Jayanti greetings and best wishes to everyone! The Gita for all time celebrates the significance of Karmayoga. The Hindu, who follows the Gita, has always been a Karma-Yogi. That's why they had decided on Gita Jayanti day itself, in 1992, to offer Karseva at Shri Ram Janmabhoomi in Ayodhya. It was a matter of fortune and pride that the stigma that was being tried to be got rid of since 1528 CE, was done away with from the world on the Gita Jayanti day in 1992. Not a single particle of the Babri structure remained there. The hard work of the Hindu society materialised and the sacrifices of millions became meaningful. The struggle continuing since 1528 fructified. The final verdict of the Supreme Court to build the Ram temple at Ram Janmabhoomi, Ayodhya was delivered on November 9, 2019. After that, the central government was ordered to form the Trust for it. The Trust was formed under the headship of saints and now the process of construction of the temple has started."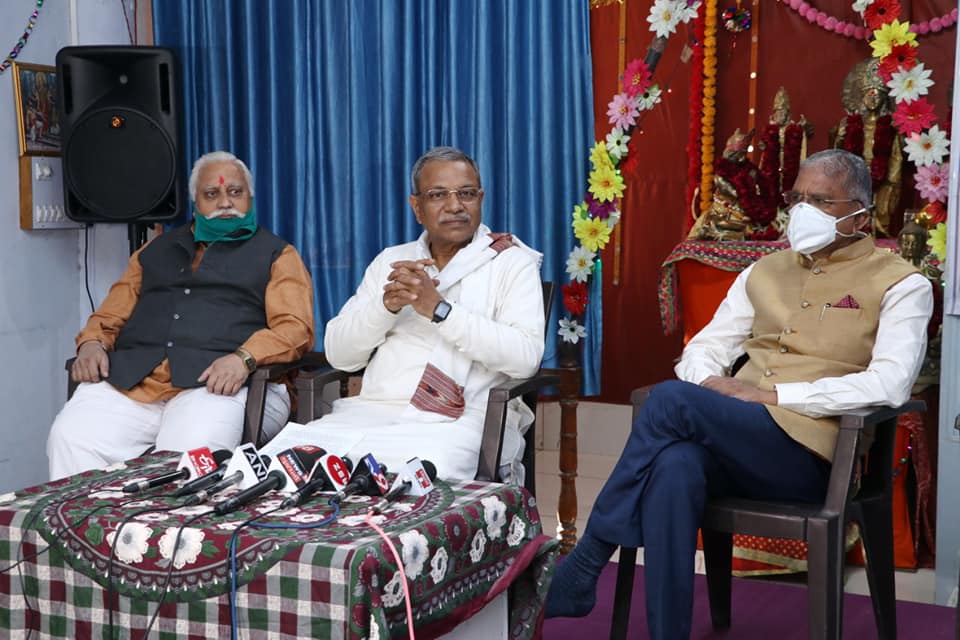 "It was decided from day one that we won't take any money from the government. The capitalists also came, also such people came who offered that they could wholly meet the budget of the temple. But, we thanked them and courteously turned down their offers. We decided, we would go from village to village, from person to person, connect every person with Sri Ram and take cooperation and contribution of every Hindu living in every Mohalla, village, city, town towards the construction of the Ram temple."
Initially, we had set a target that by contacting 110 million families in 4,00,000 villages, we would take contributions of 500 million Hindus for the construction of the Ram temple. But in the meetings of the prants held about it, amazing and marvellous enthusiasm was seen among the people. Now this target went much further. Now the Nidhi Samarpan (fund dedication) campaign for the construction of the grand Ram Janmabhoomi temple will be completed by contacting 650 million Hindus of more than 130 million families in 5,23,395 villages. For this, one-million teams have been formed comprising of four-million Karyakartas.
This will be the biggest ever public relations and liaison campaign in the history of the world. In fact, after this campaign, the journey of Ram Rajya (Welfare State) will begin from the holy temple on Rama's birthplace. This campaign will prove to be more than a launching pad for Ram Rajya. The dream of "RECONSTRUCTION TO RENAISSANCE", seems to be coming true and it seems that within the coming three years the majestic temple would come up and by the end of 2023 the stately saffron flag would be flying on the pinnacle of the temple and the result will be that the coming millennium will be that of Ram Rajya; there will be the brainwaves, inspiration and motivation to follow the ideals of Rama ensuring security, holistic prosperity, refinement, grace and dignity everywhere.
The Gujarat Prant has decided that 100% efforts would be made to connect with all Hindus for Nidhi Samarpan in all its 18 thousand villages. A committee for the purpose has been formed. There is also a committee of saints. Saints of all denominations have been included in this Margdarshak Mandal; their Acharyas have been incorporated. The zeal and zest of the Jain Samaj appears to be incomparable and outstanding. Out of his own insight and volition, Pujya Padmasagar Surishwar Ji Maharaj had earlier offered a 25 kg silver brick for the construction of Ram temple. Now he has decided to cooperate exceedingly. After all, why not? 22 of the 24 Jain Tirthankaras hailed from the Ikshvaku solar family tree to which also belonged Bhagwan Sri Ram. Therefore, every Jain feels that this Ram temple is his own temple. People of Jain Samaj have also been integrated in many of our committees. They are for sure contributing financially, but nevertheless many of their teams will contact from village to village in this Nidhi Samarpan Abhiyan.
Gujarat, which has long been considered to be a hub of Hindutva, will become stronger now. After this campaign, there will surely be the emergence of a new empowered Bharat (India), which will stand as a superpower and adorn the seat of Vishva Guru.