Chennai. 35 thousands Rashtriya Swayamsevak Sangh (RSS) activists were arrested in various parts of Tamil Nadu on Sunday, Nov. 9th as they attempted to take out route marches in their khakhi-white uniforms to mark the RSS foundation day and kick start celebrations to commemorate the 1000th coronation year of 11th century Tamil King Rajendra Chola.
Despite the explicit orders of the Madras high court permitting the route marches, police prevented them. Thousands of marchers including BJP national executive member L Ganesan in Madurai and BJP national secretary H Raja in Dindigul courted arrest condemning the police for acting in contempt of court orders.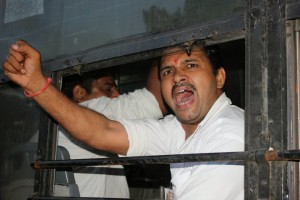 "We will definitely move the high court on Monday against police for contempt of court," Ganesan said. "It is nonsensical to ban marches by a nationalist organisation like the RSS," he averred.
RSS sah prant karyavah S Ramamurthy expressed dismay that despite the nod given by the DGP Ashok Kumar to the RSS on Saturday that the route marches were okay provided no music bands were in attendance, on Sunday morning the police had changed their decision. "It is my personal impression that police seemed to be helpless on account of political pressure," he said.
The Madras high court had on Friday green-flagged the RSS processions at seven locations in Tamil Nadu, saying they could not be stalled by police citing archaic colonial-era legislation and "intelligence inputs" which were too general. Police authorities who denied permission for the rallies had also invoked a wrong provision of law, the court said.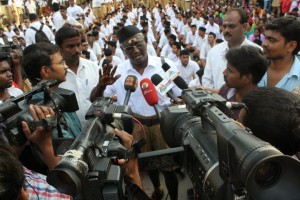 Taking exception to the RSS attire, the government said RSS swayamsevaks wear a uniform resembling that of a police force, and also carry lathis, which were impermissible as per laws.
Justice V Ramasubramanian permitted RSS processions (Path Sanchalan) in all the seven towns, saying participating cadres should not carry any weapons or lathis and should not raise slogans hurting sentiments of others.
To mark its foundation day on November 9, RSS had planned to take out processions at seven places – Chennai, Coimbatore, Tiruvarur, Karur, Thuckalay, Tenkasi and Tuticorin. After police refused permission, the RSS units in these places filed petitions seeking court's intervention.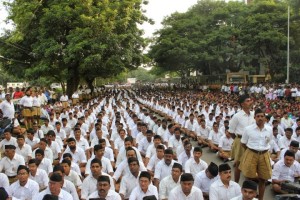 TN police & govt's action is in total violation of the HC: Ram Madhav
New Delhi. BJP on Sunday condemned the mass arrests of RSS activists during their annual founder's day procession in Chennai, adding that the action by the Tamil Nadu government and state police was 'uncalled for'.
BJP General Secretary Ram Madhav said that actions by Tamil Nadu police and government is highly reprehensible and in total violation of the orders of the court. Earlier, RSS had approached the Madras High Court, seeking a direction to permit its annual founder's day procession in seven cities across Tamil Nadu after authorities had denied the same. The High Court then directed the police on Friday to grant permission to the RSS to take out a procession and hold a public meeting on their founder's day on November 9.