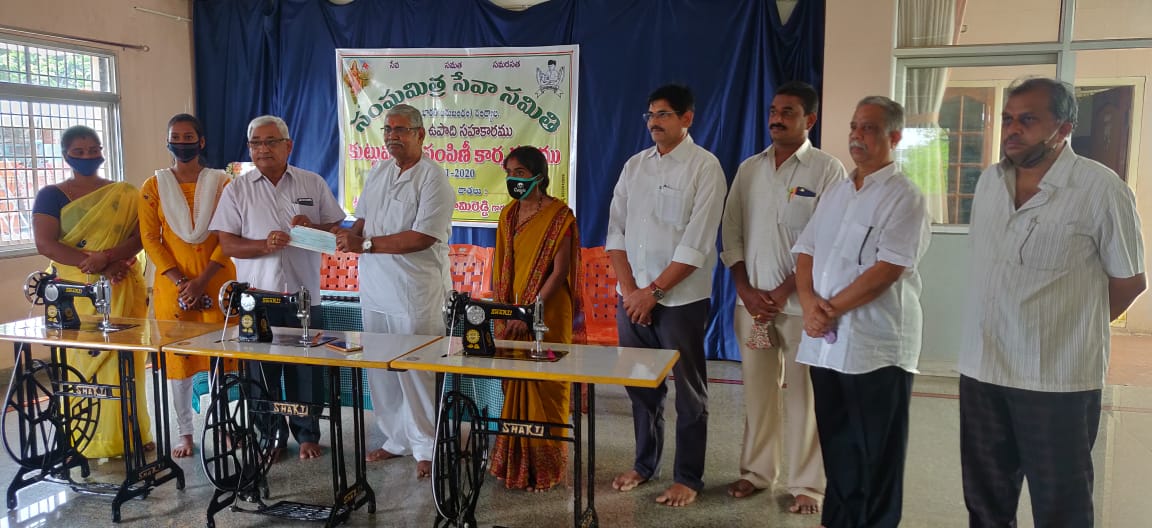 Under the auspices of Sangh Mitra Seva Samiti, Nandyala, Kurnool District, a program was organized at Sanghmitra premises to provide employment assistance to the poor families. In this program Sewing machines were handed out to three women.
Speaking on the occasion, Sangh Mitra Seva Samiti president K. Naga SubbaReddy said that there is a need to increase self-employment opportunities at the present moment and that the number of philanthropist who could provide financial assistance to meet this great cause should also needed to increase. He praised Y. Venkata Reddy for donating the sewing machines.
Donor Y. Venkata Reddy said that, he has been inspired by the story of Swami Vivekananda, which says to have empathy for the fellow beings. Small contribution made to make life of a poor family self sustainable, is very satisfying and encouraging and urged those who have been helped to utilise the opportunity and lead a successful life.
Sangh Mitra Seva Samiti Secretary Chilukur Srinivas, explained various service projects of Sanghamitra seva Samithi like, Nirasritha Balura Avaasam, Students Hostel, Mobile Medical Dispensary for 40 chenchu habitations, providing clothing and other needs to them, running medical camps, providing free tuition (Abhyasikas) in slums and various other service programmes. He appealed the philanthropist to come forward with their generosity, the Samiti is ready to take up some more service projects to help the poor and needy.
The benificeries Ippa Annapurna, Matti Mahalakshmi, Indla Usharani have thanked the donor and the organisers and assured to improve the financial status of their family by utilising the help they have received.