Kottayam (Kerala). Education should be driven by commitment and thought, but now it is painful to note that it has degenerated into one for making a fast buck, and the nation's education sector now is a sea of uneasy calm, said RSS Sarsanghchalak Dr. Mohan Rao Bhagwat.
"The nation has many educational institutions that could boast a history of more than a century or those with great infrastructural facilities. However, uneasiness prevails in the sector because education has turned into a mere exercise which generates people capable of searching for their food only," he said while inaugurating the silver jubilee celebrations of Aravinda Vidyamandiram Senior Secondary School Pallickathodu, near here on Saturday, Aug.30. This was the sole public function attended by the RSS chief during his one-week visit to the state.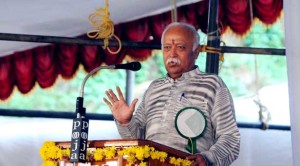 He said it is unfortunate that commercialisation has creeped into the sector and that has changed the concept of education. "Most of the educational institutions are profit-oriented. This is a wrong practice. A Minister in the previous government had opined that the education sector of the nation would be opened for foreign investment.  His logic was that it offered a scope to earn three trillion dollars. This tendency is wrong. The aim of education should be to craft people with high moral qualities and it should be one which unites humanity and not divide it. Education should aim at helping others and help one arise even after a fall.  People sans morality are akin to animals," he said.  He pointed out that the Bharatiya heritage in education was aimed at inculcating culture and the glorious past of the nation. "By culture, we mean the willingness to give away what we earn. Today the children are taught to earn with their both hands. But in the past we have been taught not only to earn with both hands but also to give way our earnings with hundred hands," he said.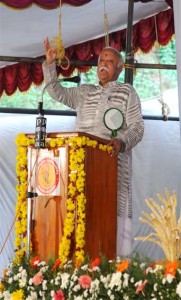 However, when you see this school, Aravinda Mandiram, one can envision a great achievement of our service activity.  The school must progress further in    the same path along which Aravinda mandiram has been moving. The directions along which schools orient their students should be followed at their homes also. I am sure the work will proceed more vigorously as the work force behind this effort are  swayamsevaks who are not affected by praise and thus will not get deflected from their duty, Dr. Bhagawat added.
Prof. CNP Purushothaman, Chief of Aravinda Vidyalayam working council, presided the function, Dr. P.K.Madhavan, President, VidyaBharati South India,  Swamy Prajnananda Theerthapadar Vazhoor theertha padasramam, PEB Menon, RSS Parnth sangh Chalak, A. Gopalakrishnan and Dr. Muralivallabhan addressed the gathering.