Agra (VSK). Strongly advocating for review of the present education system, Rashtriya Swayamsevak Sangh's Sarsanghchalak Dr. Mohanrao Bhagwat Ji on Saturday emphasised that education should lead to an exploitation-free and homogeneous society. Dr. Bhagwat Ji was interacting with around 1000 university and college teachers of Braj Prant of RSS in Agra. The event witnessed participation of teachers, vice-chancellors, registrars and others representing universities, colleges, IITs and management institutions. They participated in the 'free discussion', put their questions to the RSS chief who satisfied their queries.
Addressing the audience, the RSS Chief pointed to the need for reforms in the present education system to get the desired results. He called upon them to start the process of change with strong will power. Nothing will change in the education system even after the government spends 50 percent of the GDP unless teachers decide to change themselves and stop being self-centred.
He said that the RSS did not think that the present education system is hundred percent foolproof. There is a need for its review. We have seen socialistic and capitalist systems but they did not bring good results. When the systems failed why not start with the people? RSS did some experiments in moulding men and the change was visible, he said adding that the RSS experiment showed that people have united forgetting caste, creed and language differences.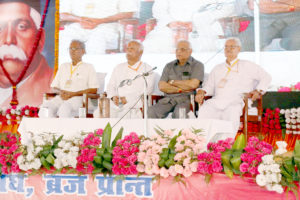 He said that it was wrong to blame the Mughals or British for our social ills. We are responsible for our present state of affairs. Therefore, change the society, the system would change automatically.
Men run the systems, they do not run on their own, Bhagwat Ji said. Therefore, it is important that how these men are. Through education we can bring about the desired change in the society and the teachers should engage them in such effort, the RSS chief exhorted them.
Teachers should strive to make our society and nation homogeneous and free of all kinds of exploitation, he said. Giving example of Israel that was attacked by surrounding Islamic countries on five occasions but the Israeli people repulsed their aggressions and extended their boundaries due to strong resolve to save motherland. Their will power made their desert country into a heaven, Sarsanghchalak Ji said.
During the free discussion the teachers raised many an issue regarding the irregularities in the education field. The RSS chief assured them that he would convey their feelings to the HRD Minister but he clarified that he was not a messenger of BJP. He however, advised them to write directly to the HRD Minister on their grievances and suggestions.
Kshetra Sanghchalak Darshan Lal Arora Ji, Prant Sanghchalak Jagadish Ji and Vice-Chancellor of GLA University Durg Singh Chauhan Ji were present on the dais.