'Education to girl means education to the family'
Mysuru. "India has 120 million Schedule Tribe population. India is developing but still Janjati communities are under developed. Education is pre requisite of development. So it is the bound duty of educated Janjati people to create awareness about education & development." Smt. Kumuda an engineer working in Karnataka Power Corporation (KPC) belongs to Hakki Pikki Janjati expressed her thoughts on the occasion of Seminar on Tribal Development organized by Vanvasi Kalyan Ashram Karnataka here at Mysore on 10th December, Sunday. She added that 'education for girls is more important, because when she is educated whole family will get educated in future. Still our Janjati people are unaware of various government welfare schemes. So we have to help villagers to avail those schemes.'
Shri Made Gawda attracted the attention on the problem of displacement of janjati communities for various development issues like mining, dams, wildlife centuries etc. He stressed that govt. should try to avoid the displacement & if displaced then honorable resettlement & rehabilitation activities should be initiated without delay.
Dr. Jade Gawda ventilated his views on the Forest Right Act and narrated the ignorance of the administration. He said Janjati communities are depending on forest, they know very well how to take care & nourish the forest. Similarly he informed the audience about the importance of Minor Forest Produce (MFP) and expressed the expectations from the govt. MFP is backbone of tribal economy so it has to be promoted.
Shri B S Krishna Prasad senior bureaucrat advised that government is trying to strengthen Schedule Tribe communities of our country with the help of various means. But still pace of development is lagging behind in Janjati areas. Govt. should form development policies by taking into consideration of their life style, geographical conditions and their problems. He experienced that due to western education system young generation is going away from the traditions & customs. He stressed upon the medium of education at primary level should be tribal language.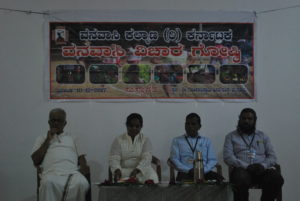 At the outset Shri Atul Jog, Joint Organizing Secretary of Akhil Bharatiya Vanvasi Kalyan Ashram presented keynote address. He narrated about the criteria to be Schedule Tribe considered by Govt. of India. It includes geographical isolation, economical & educational backwardness, shyness in contact and unique cultural identity. Due to development in various spheres of life of Janjati community scenario is changing and in future it will change fast. Considering all these facts what are the opportunities & threats for tribal communities in future? This seminar gave an opportunity to ponder the solutions on the present issues.

In the inaugural session Sh. Shantaram Siddhi, Joint Secretary of Vanavasi Kalyan Ashram Karnataka gave brief account of various activities conducted by organization. Sh. B S Anand, General Secretary gave welcome address. Sh. Venakatesh Sagar, President of the organization gave presidential address.

In concluding session Sh. Pandurang Vittal expressed his apprehension about increasing addiction of alcohol & narcotics. He advised to be proactive for de-addiction. Sh. BV Vasant Kumar passed concluding remark. Sh. Raghuram extended vote of thanks. More than hundred delegates representing various tribal communities & social organizations participated in the seminar to enrich the discussion.

/?php if(of_get_option('disable_share') != true) { ?> /?php echo mom_single_share(); ?> /?php } ?>
About The Author
Related posts
Leave a Comment