Inauguration of employment generation centers in 16 districts under Swavlambi Bharat Abhiyan (MySBA)
Bhopal. An assumption has been made that India was just an agricultural country. India was not just an agricultural country. India's long civilization tells that we had 64 types of arts. Industry was also on a large scale. We used to do business with the world. Dharampal Ji has done a lot of research writing in the context of India. It is told in one of his books that in the 18th century India was an advanced country in the field of science and industry. Will Durant has told with figures how the British looted the industries of India. This was said by RSS Sarkaryavah Dattatreya Hosabale Ji. He was addressing on the inauguration of District Employment Generation Centers of 16 districts including Bhopal under Swavlambi Bharat Abhiyan.
Sarkaryavah Ji formally inaugurated the Employment Generation Centers (Rojgar Srijan Kendra) between chanting of Mantras in C-13 located in Shivaji Nagar, Bhopal. The Chief Guest of the program was Omprakash Ji, Deputy Chief Executive Officer of Khadi and Village Industries Commission, Jitendra Gupt Ji, All India Co-coordinator of Swavlambi Bharat Abhiyan and Pratibha Chaturvedi, Chief of Women Affairs of Swadeshi Jagran Manch, Madhya Bharat.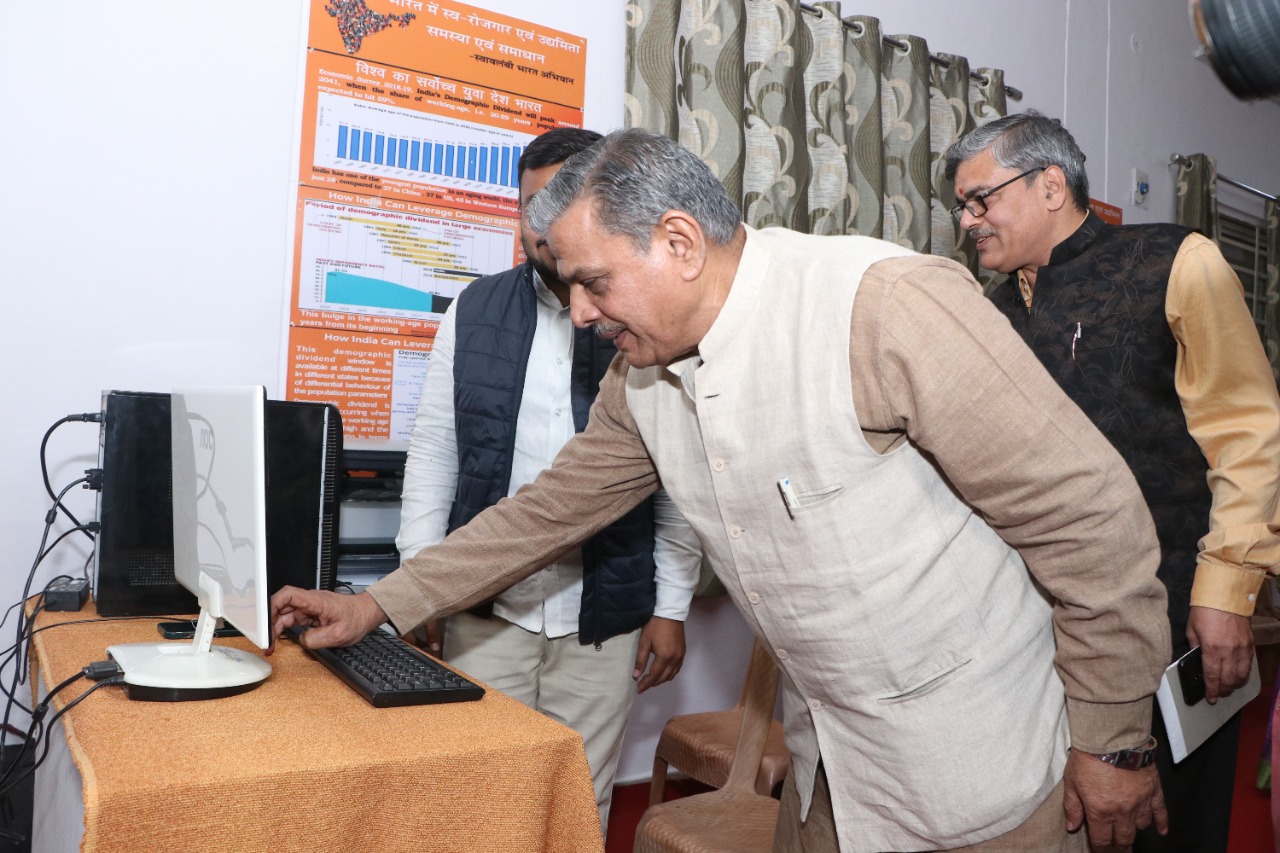 In his address, Sarkaryavah Ji said that there was a system to provide employment to people at the local level in India. But for some reason we lagged behind in terms of employment. The efforts that should have been made to stand on one's own feet in independent India did not happen. We should consider today how we can make efforts to increase employment at our level. There is a need to create an ecosystem for employment. He said that the administrative officers should not discourage the youth seeking government assistance for self-employment. Rather guide them properly, trust them and encourage them. There should also be a positive environment towards self-employment in the society, no matter how small that self-employment may be. This campaign to make India self-reliant should become a campaign of the entire society.
He said that the people who returned to their villages during Corona were trained in skills by organizations of national thought so that they can work at their own place, they do not have to run to big cities. By adding new technology to traditional skills, we can make people skills more effective. He said that to make India self-reliant, there is a need to focus on creation of wealth, skill enhancement and creation of jobs.
Along with this, he said that before independence, many people of India thought of making India economically strong, but after getting independence, proper efforts were not made in this direction according to Indian vision. Somewhere due to the way we adopted the path of socialism and mixed economy, we lagged behind. He also said that our freedom struggle was not only limited to getting freedom from the British, but we should also work independently in the social, cultural, economic and political fields with our Indian vision, this was thought by our people.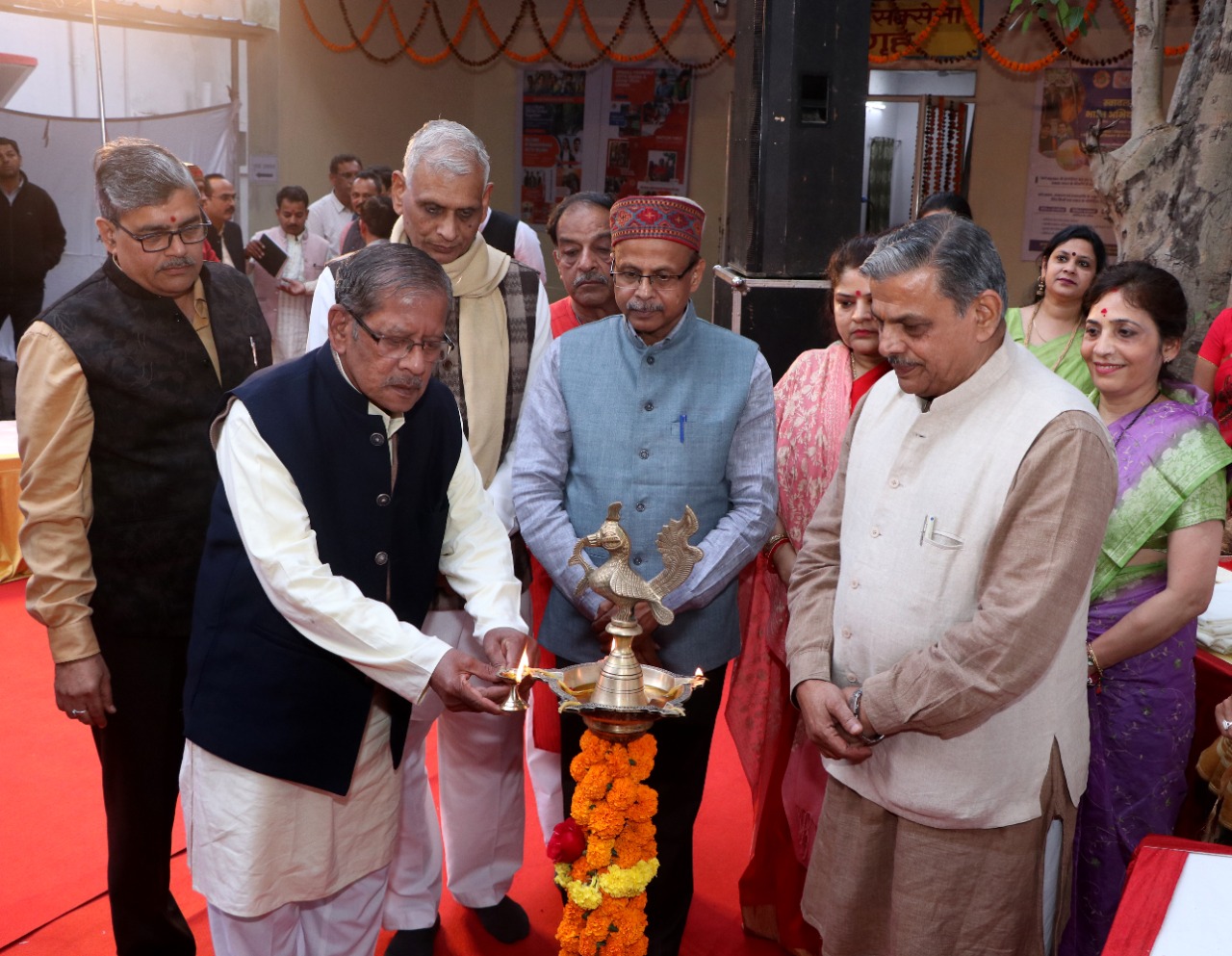 Chief Guest Omprakash Ji said that Khadi Village Industries is the most important self-employment generating project of the Government of India. Through this, employment is being given in rural areas. Government of India is encouraging people for self-employment and providing assistance to them for this.
Along with this, All India Co-coordinator of Swavlambi Bharat Abhiyan Jitendra Gupt told that the aim of this campaign is to take India towards self-reliance. 24 organizations from the social, economic and educational sectors of India have resolved to make India self-reliant. Building a self-reliant India can be possible by working in four phases – decentralization, entrepreneurship, cooperatives and swadeshi (local products). In this direction, public awareness about employment was first created across the country and by starting employment generation centers, centers are being developed to give information about self-employment through them. He said that the basic feeling of the Employment Generation Center is to encourage the youth for self-employment instead of jobs and to provide necessary information regarding self-employment. Information about jobs will also be given here but job cannot become the biggest medium of employment. Self-employment is the biggest medium of employment.
What will the Employment Generation Center do?
Employment generation centers will be operated under Swadeshi Jagran Manch's Swavlambi Bharat Abhiyan. These centers will not do the work of providing employment themselves but will work like a facility center or a consultancy agency. At these centres, youth will be informed about job opportunities in government, non-government, private sector and industrial sectors. Along with this, the youth will be guided by the experts regarding the areas and opportunities of employment. At the same time, complete information about the government's employment schemes will also be available from these centers. All these centers will be connected to the central office in Delhi. 24 big organizations of the country are involved in the campaign. Under the campaign, employment related information will also be available on digital platforms. For this, on the website mysba.co.in, groups and people who provide employment and get employment from all over the country will be able to connect with each other.
One center inaugurated physically and 15 virtually –
Sarkaryavah Dattatreya Hosabale Ji inaugurated employment generation centers in 16 government districts of Madhya Bharat including Bhopal. He directly inaugurated the center of Bhopal and virtually inaugurated the centers of the remaining 15 districts. During this, live programs were organized in all the districts and a large number of enlightened citizens were present there. Thus, employment centers have started functioning at Bhopal, Vidisha, Raisen, Sehore, Rajgarh Narmadapuram, Betul, Harda, Ashoknagar, Guna, Shivpuri, Datia, Gwarlior, Bhind, Morena and Sheopur district centres.
This launch program was two-way, that is, the launch program organized in Bhopal was observed virtually in the launch programs organized at the district centers. Similarly, the programs organized at all the 16 district centers were simultaneously broadcasted virtually on the screen in Bhopal. Gratitude was expressed by Sudhir Date, the convenor of Madhya Bharat Province of Self-supporting India Campaign and was anchored by Srikant.