Entire society should get involved in Sangh – Dr. Mohan Ji Bhagwat
Rashtroday-Swayamsevak Samagam, Meerut
Meerut. Sarsanghchaalak of the RSS, Dr Mohan Bhagwat Ji said that the whole world is tired after ceaseless experiments for 2000 years. Milking physical resources have sure provided us a lot of conveniences but not happiness and peace. Neither has world conflict showed any decline. Violence continues unabated just as before. All of which points to the solution provided by Bharat which can truly make us happy, bodily, emotionally as well as spiritually. A solution which works on a individual level and at the same time affects the society at large as well as the entire world and even nudges the whole universe towards the Omniscient.
He said that the world pines for a Dharma which will be universally uplifting, universally judicious and universally harmonious. Bharat must be ready for providing that universal Dharma which conceives of a universal being. Bharat must be awakened and united for this destined role. There are hurdles and designs by numerous powers to derail Bharat. However we must make supreme effort to keep us united and strong. The Sarsanghchaalak was addressing lakhs of Swayamsevaks in the Rashtrodaya summit on 25th February 2018.
He said that the name Rashtrodaya for this summit is appropriate. Nations have born and faded away several times. Every nation has a raison d'etre and that destiny alone governs its birth. When that destined goal becomes irrelevant, that nation too fades away. Rome was born to uphold its rule, Greece was born for beauty and France to uphold creative arts. We can liken ourself to the Sun. We know that the Sun never really sets, it is just an illusion due to earth's spinning. Sun is eternal. Bharat is likewise an eternal nation. It is forever existing and forever agile. It makes no sense to talk of its birth or death. That is the raison d'eter of Bharat and we must realize this element of our nationality.
He further said that we are Hindus and our ancestors attained the Truth which no one else did. Our sages faced inward and through spirituality discovered the raison d'etre of the whole universe as well as to spread happiness in the entire world. They had experienced the ultimate Truth. And that truth is – the Supreme Existence is Singular. It merely appears to be varied in language, rituals and worship. Every being comes with its own appearance but the underlying existence of them all is common.
We don't just see unity in diversity, we also recognize the underlying unity of diversity itself. That is why we respect diversity and plurality. We celebrate diversity. And we treat the whole world as one family – Vasudhaiv Kutumbkam. We believe – consumption is merely animal instinct. Contentment and conservation is a way of life for us.
He stressed that the values of unity in diversity, living True life, renouncement, social service, forbearance, philanthropy, gratefulness are not rituals of a mode of worship. These are not values of a single creed. These cherished values are common to all the creeds born in India. They may have differing philosophy, differing articulation of Truth, differing mode of worship. However the Dharmic way of life prescribed to their adherents is the same. Every tenet has the same origin and destination. And these values are universal. All the creeds of the world can be accommodated in these values.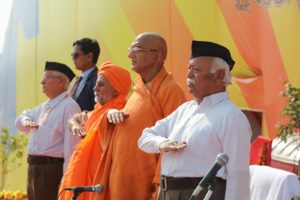 He further elaborated on staunch or orthodox Hindutva. Staunch Hindutva really means staunch integrity, staunch non-violence, staunch contentment, staunch benevolence. However there is a practical law of the world – your voice is heard only if it is backed by strength. The weakling command no attention. Just like only goats are offered as homage not elephant or tigers.
It is a testament to our family acculturation that the same values lived by Bhagwan Ram 8000 years ago are still visible in the lives of common Indians. These values are living values and they are eternal. We already have these values. But we have to look within to rediscover it. Those who do not respect themselves cannot progress too. Our ancestors showed the Dharmic way to the world from time to time. We inherit the same values of our ancestors. We must proudly declare that we are Hindus and we will be united as Hindus. No other nation has this strength of accommodating differing creeds into itself. We alone have diversity of creeds while still being one.
He said that mere words come easy. But to work overtly we need unity and sociability. It takes painstaking discipline to live by harmony and discipline. It takes intense Sadhana. RSS embodies that same Sadhana. The daily Shakha of the RSS are living testament to the age old values of Bharat. It needs no elaboration that our Swayamsevaks are active in all domains. They are self motivated and work via self resources without taking any assistance form the govt. There are 1,70,000 seva projects all over Bharat and they touch every part of of society. In any distress, our swayamsevaks are the first one visible for relief work. Several of them have paid for this service through their lives too.
He stressed that our programs are not display of power. We have no use for power display because strength is self evident. We merely asses our projects and try to expand it and strengthen it. However for Bharat to lead the world it is not enough for only one organization to strive for it. It is not enough to be a swayamsevak. The entire society must become RSS. If such a large group strives together, then only we can achieve our goal. And since the goal is for the betterment of the entire society then it is imperative for all of us to come together. Today's program is a call to the entire society to not just be a well-wisher of RSS but to get involved. Be a part of this Sadhana. Be associated with us with total dedication.
The Jain monk Viharsha Sagar ji termed Bharat Mata as the progenitor of extraordinary human gems. The Peethadheeshwar of famed Joona Akhara Swami Awadheshanand ji said that the whole world looks upto Bharat. They all want to be a part of this supreme civilization. Our culture is not one of consumption but of judicious utilization of resources. Even scientists acknowledge the values of Hindu Dharma as supreme. This Rashtrodaya summit strives to bring supreme glory to Bharat Mata.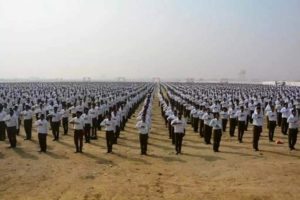 /?php if(of_get_option('disable_share') != true) { ?> /?php echo mom_single_share(); ?> /?php } ?>
About The Author
Related posts
Leave a Comment