And yet Muslims are victims?
Bhopal. In a shocking incident that highlights hypocrisy towards Hindus has come to light in Bhopal where an ex-soldier was beaten up by train pantry staff after he started reciting mantras for protesting against the Muslim community who were offering Namaz in train. The incident took place in the Swarn Jayanti Express on Sunday (November 20) evening.
The ex-soldier has been identified as Vilas Naik, who was travelling to Vishakhapatnam from Hazrat Nizamuddin, with his wife and children. The video of the incident is making the rounds on social media.
Look at this, even on the train, the bullying will continue everywhere because Hindus are not united.

Visakhapatnam 'Swarna Jayanti Express' @RailMinIndia pic.twitter.com/dMhNFR4Mxq

— ADV. ASHUTOSH J. DUBEY 🇮🇳 (@AdvAshutoshBJP) November 21, 2022
As per the video, a group of Muslim people were travelling from the same compartment, offering Namaz at regular intervals in the train. The chaos took place when Naik took objection over it, when he asked for a way to go washroom, however, the Muslims denied it as they were offering Namaz.
And in protest, Naik started to recite his prayers. During this time, a pantry staff member asked him to get aside. However, Naik refused to do so. An argument broke out between the two. In a video, one can be heard Naik saying that when the Muslims were offering Namaz nobody stopped them, and then why he was being stopped from offering his prayers.
According to the incident, an FIR was filed against the pantry manager and others following the incident under sections 294 and 322 and 34 of the IPC. However, while talking to media persons, the pantry manager, Harvesh Shrivastava, told that Naik himself hurt himself. As per Shrivastava, the ex-soldier resorted to violence when he went to resolve the matter.
It should be noted that Muzakir Ahmed, who was travelling on the train, confessed that they were offering Namaz. He told that Naik was insisting on going to the toilet when Namaz was being offered.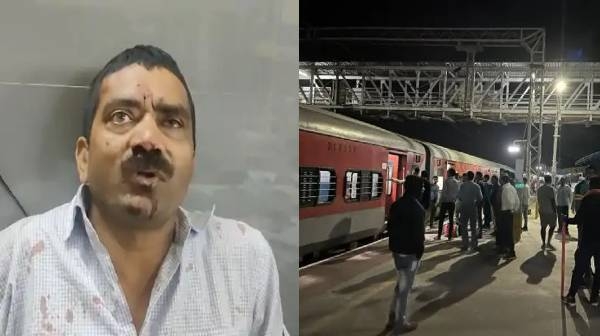 Input Courtesy – NewsBharati