#GreenArmyPlateBank Ready to Serve
Anjali Tagade
Pune. We all always read and hear that environmental balance should be maintained, environmental degradation should be stopped. But nobody starts this social work from their selves. We have the desire but sometimes the way or option may not available.
Prashant Raul, an environmentalist from Indrayani Nagar-Bhosari, has succeeded in finding a similar path. Out of social consciousness they are running the Free Green Army Plate Bank initiative, connecting thoughts with action, they have created the new ideal in the society.
'Use and throw' is the current era. Therefore, even in small domestic events, use and throw dishes, bowls and spoons are now used. It causes a lot of waste. Presently we have few tons of garbage accumulated in Pune district, every day this figure is increasing, but the hands to pick it up are limited. Even more difficult is the disposal of waste.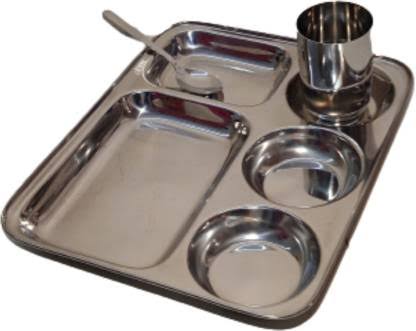 Moreover, disposable coated dishes, bowls, spoons and glasses in the market are bound to contain chemicals. If you eat or drink anything hot from it, it easily goes into your stomach.
As a viable alternative to all these, Prashant has prepared a set of steel plates, bowls, glasses, spoons for 90 people. They distribute it for free.
For this, Sangh Swayamsevaks have contributed to make sets maximum. Demand for this is being recorded from many places. This initiative is being launched under the name of Green Army Plate Bank.
Plate bank?
For any small (up to 90 people) event at your home, the whatsapp contact has been provided to meet the demand and register on which date and how many sets you want.
Plate set can be booked as per your event date. Carry the plate set on the day of the event or a day before (as per requirement) and clean it after the event. There is no charge if all utensils are cleaned.
However, if it is not possible to clean, the cleaning cost of Rs. 1 per set has to be paid. It is given to needy women and taken from them to clean the dishes, and employment has also been made available to needy.
25 volunteers from Pimpri Chinchwad such as Green Army, Vrikshamitra, Nisargaraja, Mitra Jeevanche, ECA, Rashtriya Swayamsevak Sangh swayamsevaks are participating in this activity.
Along with Pimpri Chinchwad, there is good demand for this set from Pune district, Lonavla, Satara, Mumbai. Citizens come and take the sets and are also bringing them and giving them properly.
Social organizations like Rotary, Lions are also promoting this activity and registering demand. A spontaneous demand for inclusive citizens from all walks of life is coming for the set.
# Everyone can start a plate bank in their own area if they like the concept benefits.
# Waste generated by Use & Throw plates will be stopped.
# The money required for Use & Throw will be saved.
# Environment will be saved.
# There will be awareness about this among children and citizens.
They intend to implement this activity in every housing society. Environmental protection, waste management and health can be taken care of. Every society has various activities like small parties, birthdays, weddings, functions, anniversaries, baby showers, big get togethers.
If a set of such plates, bowls and spoons is prepared in the society for everyone, everyone can use that facility.
The Green Army Plate Bank initiative, which started out of faith and social consciousness, now expects maximum participation of volunteers and citizens. The Plate Bank which was launched on Akshaya Tritiya, now has around 90 sets (5-cup plates, glasses and spoons) available now.
Environment lovers should take advantage of this opportunity to use plate bank instead of Use & Throw Cutlery, save both money and environment.