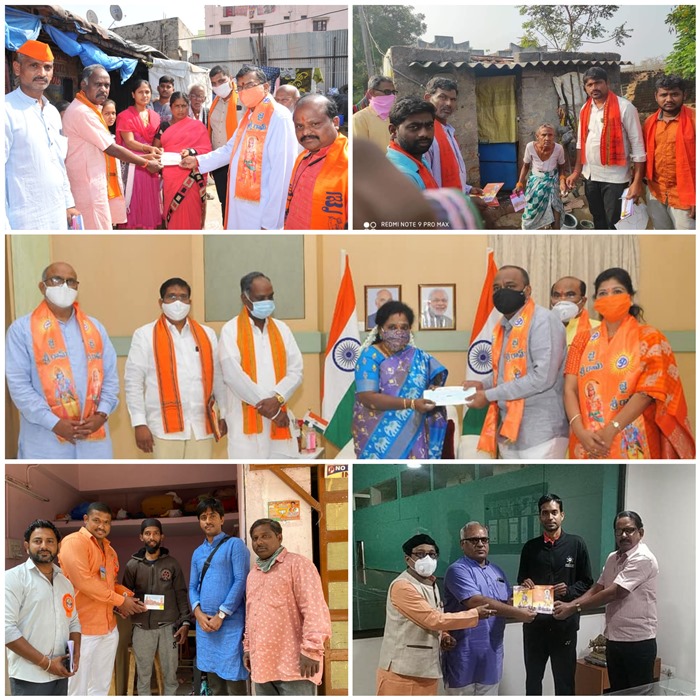 Bhagyanagar. People across the country have been voluntarily and in large numbers making contributions for the construction of Ram Janmabhoomi Mandir. Even those with limited means and resources, the economically backward people also have been participating in the Nidhi Samarpan Abhiyan, illustrating the fact that devotion towards Ram is unparalleled. And many noted people have also been humbly submitting donations to this Abhiyan.
Wonderful experiences
When the volunteers came to them as part of the fundraising campaign, nobody turned them away empty handed and everyone is donating whatever amount he or she can. Participation of the whole spectrum of population from little kids to nonagenarian senior citizens with great enthusiasm and joy shows how deep devotion for Ram is entrenched in this land. In Elete Ramayyapalli village of Chityal mandal in Jayashankar Bhupalapalli district, a destitute old woman donated Rs 500 to the fund. This old woman who is earning subsistence by doing random errands, responded to the call of the volunteers who came to her hut. While the volunteers assured her that a donation of a mere Rs 10 is enough, she insisted on donating Rs 500 and requested the volunteers to send her loving contribution to Ayodhya.
Another woman in a Hyderabad Colony, who is 90 years old, donated money to the fund not just by herself but also on behalf of her departed elder son. A lady in Secunderabad whose livelihood is through selling brooms also donated to the fund.
Many Christians and Muslims have proven that religion is not a barrier for devotion towards Ram. In Himapuri Colony of Mansurabad, Muslims donated generously to the fund. In Bhagyanagar old city, many Muslim women participated in Ram temple fundraising, chanting slogans of Jai Shri Ram, Bharat Mata ki Jai and Vandematram.
Noted badminton player and Coach Sri Gopichand Pullela called upon people to generously contribute to the construction of a magnificent temple for Shri Ram.