New Delhi. Rural Development Minister and the popular BJP leader in Maharashtra Gopinath Munde died apparently of shock and cardiac arrest suffered during a road accident early this morning.
64-year-old Munde, who made his entry into the Union Cabinet for the first time after the Lok Sabha polls, was on his way to the airport when his car was hit by another vehicle at Prithviraj road-Tughlak road roundabout in the heart of the capital, said Union Minster Nitin Gadkari.
"Munde was brought to the emergency department of Jai Prakash Narain Apex Trauma Centre, AIIMS at 6:30 AM by his personal assistant and driver. Munde was sitting in the backseat of his car which was hit by another car or any other vehicle at around 6:20 AM from the side he was sitting," Dr Amit Gupta of the Trauma Centre told reporters.
"On his arrival at the Trauma Centre, there was no spontaneous breathing, no blood pressure, no pulse, no cardiac activity. So immediately Cardiopulmonary Resuscitation (CPR) was started and continued for the next 15 minutes. Despite resuscitative measures, Munde could not be revived and was declared dead at 7:20 AM," he said.
The doctor said, "Munde was hypertensive and a sugar patient. He was already taking medicines. Right now there are no major external injuries on his body. We cannot say anything but clinically we might say that he had a sudden cardiac death".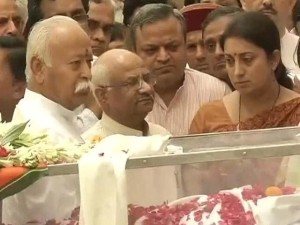 At about 1.00 pm Munde's body arrived at the party headquarters on Ashoka road, where political leaders from across parties have gathered to pay their tribute to the Maharashtra politician. Prime Minister Narendra Modi as well as other Union Ministers will also arrive at the  party office to pay their respects. His body will be flown to Mumbai later today. RSS chief Param Pujya Dr. Mohan Rao Bhagwat and Other top RSS functionary like Shri Bhaijja ji Joshi, Shri Suresh Soni ji, Ram Madhava paid their  floral tribute to departed leader. BJP leaders MM Joshi, LK Advani, party president Rajnath Singh, M Venkaiah Naidu, Vijay Goel, Nitin Gadkari, Gen VK Singh, Nirmala Sitharaman, Smriti Irani and NCP Chief Sharad Pawar were among the party leaders present. LJP leader Ram Vilas Paswan were also present. President Pranab Mukherjee and former prime minister AB Vajpayee sent floral tributes.