Guru Jitendra Maharaj legatee of Varanasi Gharana, the trendsetter of temple style of Kathak dancing, who took Kathak to new heights set trends in choreographing has passed ahead to his heavenly abode.
Bestowed with numerous accolades and awards including Sangeet Natak Academy's, Kalidaas Samman, his disciples are the well-known Kathak duo- Nalini Kamalini. Known for his extraordinary contribution to the world of Kathak, he was known for choreographing mythological stories viz Rudra Awtar, Agnishika, Vahadehi Vanvas, Akhand Sobhgyawati, Ram ki Shakti puja, Shiv ShaktiMahima, kalaAurVasna, ArdhNareshwar, Krishnamayee Meera Andaal, Veerangna, Pitambara, Ganga avtaran, Meera Madhav, Preet Kiye duk Hoye, Rabindranath Tagore, Traditional, dhrupad Composition of all God Goddesses and Bhakti Kaal Kavi.
A privileged dancer, who performed at Sankatmochan, BadriKedarNath Ramehswaram Chidambara Thirupati Banke bihari MandirVrindaban after 518 years. From Kashmir to Kanyakumari, all the Shiva & Shakti peeth, religious Akharas of Mahakumba on the recommendation of late Rajmata Scandia and ISKCON temples all over Europe, he was blessed to have showcased his commitment to the form. On one hand, his disciples were at DEVA SHARIF DARGAHA of Bareilly Ajmer and Kalia Sharif for cultural Integration, on the other side, they set world record dancing at 18000 ft altitude SHIVAS aboard Kailash Mansarovar in 2003. Guruji's work was showcased in presence of Holiness Dalai lama during 1000-year celebration of Tobo Monastery Potala Palace lahasa parayang and at the river of Bagmati river to strengthen Bharat Nepal Maitri amid the gathering of thousands of devotees.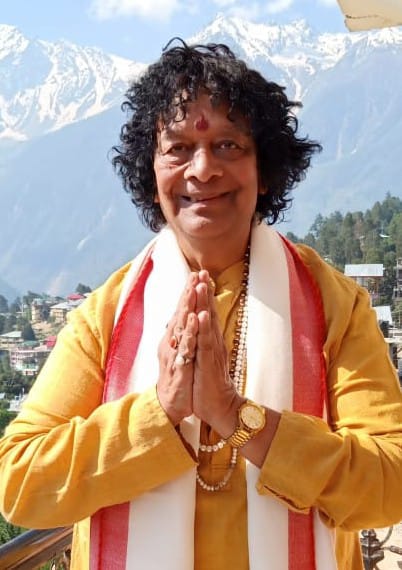 He and his disciples have authored books on spiritualism in Dance and its relation of dance with Yoga. This has conveyed a message Nritya as medium of Moksha. His shishya, Nalini continues to teach at Sangeetka institute of Performing Arts where Indian foreign scholars are trained in Guru Shishya Parampara series of lectures held since 1984. He had visited Academic Institutions of the world with widely acclaimed response in Oxford Cambridge, Leiden Manchester University, London School of Economics, Kings Medical College, Helsinki, China, Indonesia, Bangkok and USA. His contribution to society was immense whether it was in organizing free camps in MTNL Health Mela to develop concentration, will power and eye sight or to use music dance therapy to rehabilitate spastic and physically handicapped students to the main stream of life for their biological and psychological treatments through Baisakhi Institute for Handicaps in Nagpur. His disciple, Kamalini as chairperson of Kathak Kendra lived up to his expectation as his shishya of promoting and popularizing kathak in the remotest part of Manipur, Nagaland, Tripura, Guwahati and Port Blair. As mentor and guru, he has groomed thousands of youths for under the banner of UDAAN. These workshops trained youngsters, who are now the torchbearer of Ek Bharat Shrestha Bharat.
On the occasion of International Environment Day under the auspicious occasion of Saraswati Mahotsav at Kurukshetra, Guruji and his shishyas, Nalini Kamalini presented NAMAMI GANGE. Sangeetika has also been involved in promoting regional languages and organizing summer workshop of Maithily, Bhojpuri and Brij bhasha.
Guruji's work is embodied in documentation for NCERT with series on sounds, gender equality Among the innumerable projects are valuable collaborations with Sangeet Natak Academy, CCRT, Ministry of Culture. His lifelong work was a reflection of his dedication to Kathak and his undying commitment to the values it celebrates. The voyage and evolution of dance, therapeutic values of
dance and its supreme connection to yoga was always a part of his association with dance.
Guru Jitendra Maharaj ji was a legend in the world of Kathak who had dedicated seven decades of his enlightened self to the art form. His legacy in encapsulated in his disciples and followers.