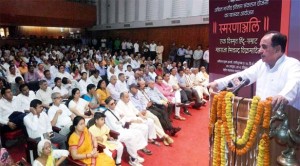 New Delhi. Emperor Hemchandra Vikramaditya is amongst those national heros who sacrificed his life for the nation and challenged both Afgan rebels & the Mughals. He won 22 out of 24 Wars he fought with mughals to save Bharat and took important decisions during his short span of 29 days rule in Delhi. Born at Rewari he was coroneted in old fort of Delhi on Oct 7, 1556 and was titled "Vikramaditya", said Prof. Dr. Satish Chandra Mittal, President Akhil Bharteey Itihas Sankalan Yojana. If by accident, a freak arrow would not have struck his eye while leading the Panipat-II War against Akbar, the Mughals would have been thrown away from this pious land, he added while addressing a workshop called "A Forgotten Hindu Emperor Maharaja Hemchandra Vikramaditya : A Tribute".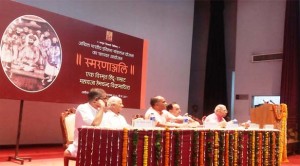 While addressing the gathering as chief guest in the National museum auditorium on October 5, the Ex Union minister and thinker Dr. Subhramanyam Swami said that where ever Afghans, Mughals & English ruled in the world, they converted the country's religion except Bharat. Even after around 800 years rule of Mughals & 200 years English rule, we still are over 80% of our population only because of the fight & sacrifice of our national heros like Hem Chandra Vikramaditya. But unfortunately our youths are devoid of the study of the great work due to the distorted history being taught to them on behest of the English & Communists mentality. This needs to be corrected, he added.
Addressing the jam packed auditorium, the international joint secretary general Vishwa Hindu Parishadshri Vinayak Deshpandey said that it is unfortunate that even Indraprasth (Delhi) has not yet got any monument of Pandawas, the founders of Delhi. The monument of our national heros like Prithvi Raj Chauhan and Hem Chandra Vikramaditya should be build to remember our glorious history.
The national organizing secretary of Itihas Sankalan Yojanashri Balmukund Pandey, state General secretary shri ArunPandey, Historian shriSohanlalRamrang, VC Lal Bahadur Shastri Sanskrit Vidya Peethshri Ram Niwas Pandey, HOD Samskrit JNU Prof Santosh Shukla, VHP's central joint secretary shri Hari Shankar, regional organizing secretary shri Karuna Prakash and state secretary General shri Ram Krishna Shrivastava were amongst those present in the program.