Chennai. Hindu Munnani lost yet another activist in Chennai following the murder of Sri Vellaiyappan at Vellore and Sri Ramesh BJP of Salem. K P Suresh, 48, Thiruvallur District President of Hindu Munnani was hacked to death on Wednesday night, 18th June around 9.30 p.m. K P Suresh is a soft spoken swayamsevak of Kanyakumari. It is said that unidentified gang of three suddenly attacked Suresh causing serious injuries to his face, neck and body. Hearing the shocking news, hundreds of Hindu activists staged road roko demanding the initiation of police action.
RSS functionaries and Hindu Munnani founder Ramagopalan strongly condemned the continuous murders of Hindu leaders in the state. In his statement, "It is not even a year passed on the murder of Sri Vellaiyappan. He hit the State Government that the release of Hyder Ali, (on 17th June)  a terrorist wanted in various cases including the bomb blast of RSS Office Chennai, (1993) shows the soft dealing view with terrorists and Tamilnadu is now a peaceful haven for terrorists.
He further appealed that the Chief Minister should directly oversee the case pertaining to the killings and ensure that the miscreants are brought under law".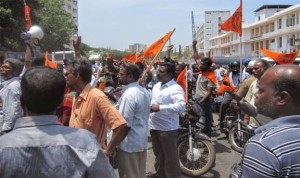 Hindu Munnani and parivar organizations called for a rally and protest demo throughout the State.  Hundreds of Hindu activists of all parivar organizations staged protest demo. In Chennai, a rally was organized wherein 2000 activists from all parivar organizations participated. Sri Ramagopalan Hindu Munnani, Prant Sevak Pramuk Sri Ramarajasekar, Sri M D Shankar Vibhag Pracharak, Sri Elangovan HM City Secretary, Smt Vanathi Srinivasan BJP and adhikaris participated in the rally and paid their tributes to the departed soul. The last rites is to be performed at his native place Kanyakumari.