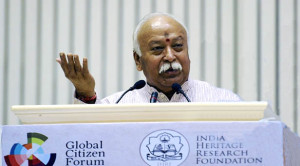 New Delhi. P.P. Sarsanghchalak of  RSS Dr. Mohanji Bhagwat on Friday, October 10, said people of Bharat have not treated Hinduism as their fiefdom but as their heritage meant for the world and there is a greater need for people in the country to have knowledge of its roots than those abroad.
Speaking at a function for the launch of the international edition of "Encyclopaedia of Hinduism" at Vigyan Bhawan in New Delhi, he said it is important to give information to children about their roots as this is currently missing from their education and learning system.
"The word Hindu was not there before. The tradition and religion was there but the word itself was not there. It was then known as humanity.
"It is true that Hinduism emanated from Hindustan and evolved further here but people of the country have never considered it as their fiefdom and have only considered it as their heritage, which is meant for the world," he said.
"There is greater need for people in the country to have knowledge of Hinduism than those abroad…We need to provide knowledge about our roots to our children as the same is not made available in education and neither by their parents," Bhagwat said.
The RSS chief noted that people related religion to rituals and that was the reason why today's problems have cropped up and asserted that what is right in principle has to be practically correct also as per Hindu religion.
"We have treated rituals as the religion. That is why we are facing the consequences…We have treated 'tathya' and 'vyavhar' separately…that is one of the main reasons why the country is suffering the consequences," Bhagwat said.
Lauding those behind bringing out the encyclopaedia, Bhagwat said there was a need for it in society and hoped it will not find its way only in museums but will be read by the people.
He said those behind the encyclopedia have done their job by launching it and by giving the people of the country the responsibility to gain knowledge of their roots.
Vice President Hamid Ansari was also present during his address.
Among others who also spoke included HRD Minister Smriti Irnai, Bollywood actor Vivek Oberoi, Swami Chidanand Saraswati of India Heritage Research Foundation, Imam Umer Ahmed Ilyasi, president of All-India Imam Organisation and Dewan Syed Zainul Abedin Ali Khan of Ajmer Sharif Dargah and Jain saint Acharya Lokesh Muni of Ahimsa Vishwa Bharati, besides industrialist B K Modi. Pakistan High Commissioner Abdul Basit was also present.
Source: PTI