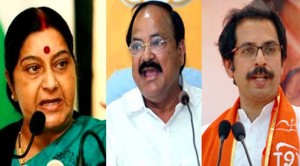 New Delhi. The debate on Hindu identity continues with External affairs minister Sushma Swaraj the latest to jump into the debate, with a comment that even in the Arab world, "many illustrious families have surnames like 'al-Hindi', implying that 'Hindu' or 'Hindi' were not identities, confined to a particular religion," according to a report in the DNA.
Swaraj had made the remarks at the Arab States Media Symposium in New Delhi and the report adds that she also said that "'Hind' was still a popular name being used by many Arab women."
Swaraj touched on a range of issues relating to Gulf nations and said Bharat was looking at investments from the sizeable Sovereign Wealth Funds in the oil-rich countries which can prove to be a "game-changer" in Bharat's quest for world-class infrastructure.
Her remarks come in stark contrast to RSS chief Dr. Mohanji Bhagwat who had said that Bharat is a Hindu nation and Hindutva is its identity. While Swaraj's remark indicate that the word Hind and Hindu didn't really originate in Bharat (which it didn't, it is given by Arabs to the people and the land across the Sindhu), Dr. Bhagwat's remarks didn't acknowledge this relationship.
He had said , "Hindusthan is a Hindu nation…Hindutva is the identity of our nation and it (Hinduism) can incorporate others (religions) in itself." He had also suggested that the inhabitants of Hindusthan should be known as Hindus saying, "The cultural identity of all Bharteeya is Hindutva and the present inhabitants of the country are descendants of this great culture. If inhabitants of England are English, Germany are Germans and USA are Americans then why all inhabitants of Hindusthan are not known as Hindus."
The BJP has defended Dr. Bhagwat's remarks with Union Minister and senior BJP leader M. Venkaiah Naidu saying that "Hindu is a not a religious concept. Hindu is a cultural identity."
Naidu had gone on to say "If Hindu is a religion, then why this (The) Hindu newspaper? If Hindu is a religion, then why Hindustan Times newspaper and why Hindi 'akhbar' Hindustan? And why Hindustan Machine Tools (HMT)? then why Hindustan Aeronautics Limited ? Then why Hindustan Shipyard? I can give 125 examples like this. These are not the names given by (Prime Minister) Narendra Modi or Venkaiah Naidu or somebody. This has been there in our traditions. On August 15, what do you say?'Jai Hind'; does it mean to say Hinduon ko Jai aur bakio ko nahi. Aisa hai kya"?
Shiv Sena chief Uddhav Thackeray had also defended Dr. Bhagwat's statement saying, "Whatever Mohanji Bhagwat said is true. Balasaheb used to say the same thing… what is wrong with Dr. Bhagwat's statement?"
With Swaraj's latest statement, it's clear that the debate on the Hindu identity is going to die down soon.