Kolkata. No respite from the attacks by the violent mob even after the Ram Navami is over in the state of West Bengal. On March 31, Howrah was under curfew, as shops and markets were closed following a bloody clash on Ram Navami (March 30). Under the police watch Islamic goons targeted Hindu families living in Howrah's Sandhya Bazar and Shibpur area of Howrah.
Locals shared clips of the attack with Organiser Weekly on March 31. In these clips a large crowd of people wearing skullcaps can be seen running towards a residential colony in Sandhya Bazar area. They hurled slogans like 'Allah Hu Akbar' and attacked the Hindu families living in the colony.
The mob is well equipped with sticks and stones. In a different video, the attackers can be seen hitting the doors to break them and barge into the houses.
Apart from the violent mob, the police officials can be seen standing idle as mute spectators. The clip shows Rapid Action Force (RAF) officials were standing near the colony where the mobsters barged in, but they did not dare to stop them.
A similar attack was launched at the Shibpur area of Howrah where Islamists after 'Jumme Ki Namaz' attacked Hindus living there. The aggression comes a day after Ram Navami procession was targeted in Howrah.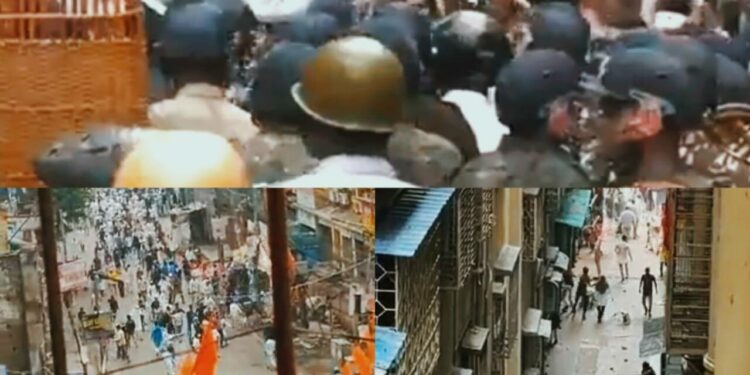 Vehicles were torched, several left injured after unidentified attackers barged into the peaceful Ram Navami Shobha Yatra.
After taking the situation under control the Bengal police took out a flag march in the affected area.
Notably, an organisation Anjani Putra Sena, took out a procession at the Sandhyabazar area of on the occasion of Ram Navami. The organisers alleged that while the procession was passing through the area, a group of people attacked and started throwing glass bottles, stones and bricks at those who had participated in the procession.
Eventually, clashes broke out following which a number of vehicles, including some belonging to the police, were set afire.
The situation is said to be under control, and as per sources, at least 15 people, including some police personnel, were injured in the clashes.
Courtesy – Organiser