If adding values in Education is Saffronisation, then nothing wrong in it : Governor VR Wala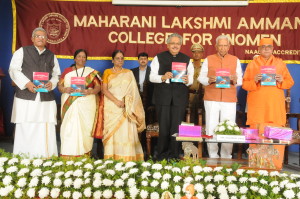 Bengaluru. "If attempts of bringing Indian values in education, then a section of people will criticize it as Saffronisation of education. If it is Saffronisation of education, then there is nothing wrong in it " said Governor of Karnataka, Hon Vajubbhai R Vala in Bengaluru on Tuesday morning.
He was delivering the inaugural address at a gathering of educationists at the two-day national conference on 'Value initiatives in institutions of Higher learning-key to Youth empowerment' at Maharani Lakshmi Ammanni College for Women in Malleshwaram, Bengaluru. Disha Charitable Trust, an RSS inspired NGO of Malleshwaram co-organised the event along with Maharani Lakshmi Ammanni College for Women in Malleshwaram.
Governonr VR Vala added "The student today gets information from all corners, but from where the values he will imbibe? The need for value education to be a part of the modern-day education system which currently focuses only on bestowing literacy and knowledge of technology. People paint any attempt at moral education as saffronization, we inculcate the eternal values of universal love and brotherhood as enunciated in the concept of ancient chantings like 'Sarve Bhavantu Sukhinah, Krunvanto Vishwamaryam or Vasudhaiva Kutumbakam."
"Youth should focus more on character building than spending time and money on cosmetics and luxuries. Than spending money on such fashion items, better to purchase books to read about the life and teachings of inspiring leaders such as Mahatma Gandhi, Sardar Vallabhai Patel and Bhagat Singh who sacrificed their lives in the service of the nation" said Governor VR Vala.
"Today we all has to understand and practice the sentence Satyam Vada-Dharmam Chara, meaning speak truth and do works honestly and ethically. Simple living and high thinking is the need of the hour. Gandhiji lead a simple life and his thoughts were of high and wider standards. Education should provide such a value for each person, which also makes a person socially active" added VR Vala. Hon. Governor also released a compendium on the conference theme.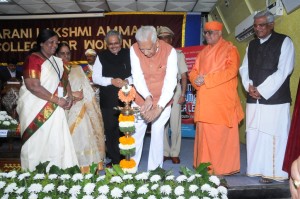 Prof. N.V. Raghuram, President of DISHA, delivered the presidential address. He pointed out that the entire world is looking towards India for moral and spiritual guidance.

The keynote address was delivered by Swami Atmapriyananda ji Maharaj, the Vice Chancellor of Ramakrishna Mission Vivekananda University, Kolkata. Quoting examples and verses from the scriptures, Swami ji drew attention to the fact that self-enquiry and a scientific spirit have always been the edifice of all ancient wisdom. Nearly 300 educationists of Karnataka and nation are participating.

Values are caught not taught: Ramakrishna Rao

Addressing the need of reforms in education at the national conference, Vidya Bharati's National Vice President and RSS Kshetreeya Karyavah Dushi Ramakrishna Rao said "Values the one which are always are caught but not taught. Student community should be producers of the thought, not just consumers. Our approach of education system should be learner-centric. The youth today are not useless but are used less"

"Research integrated curriculum is much need today. Each institute should dedicate 20% of its curriculum for research activities. Internship programmes should be mandatory. Technology is a boon for the mankind today. We gained so many things. But technology is never a substitute for values. 50% of theoretical teachings can be taught within class and the rest can be learnt by practice. Under sky teaching methods helps much to add values on education", added Rao.

'Yoga can be a good tool to promote values in learning. At any level of learning the Yoga can be taught, at all institutes which promotes the skills of learning. For mental and intellectual learning, spiritual teachings should be made compulsory. The teachers should be trained well before he teaches, otherwise the students should forced to compromised their thoughts" said Ramakrishna Rao.

/?php if(of_get_option('disable_share') != true) { ?> /?php echo mom_single_share(); ?> /?php } ?>
About The Author
Related posts
Leave a Comment