Chennai (VSK).  Tough times calls for not only tough measures, but also innovative and charitable measures. When the Government of India and Tamilnadu are going that extra mile to break the Covid-19 chain, can commoners stay behind? These turbulent times saw common citizen's overwhelming part in doing their bit to the society.
Prakash, a tailor from Thiyagadurgam, a Panchayat town in Kallakurichi District is stitching 500+ masks per day in his own paltry revenue and distributing for free to Public. Another Tiles Business man Venkat Subramani from Madurai offered his commercial complex of 12000 sq.ft for free to be converted to a hospital facility. He said he is ready to provide uninterrupted power supply, which much needed to run a hospital. The Railway Police of Central station were seen distributing food packets to the homeless. The Triplicane Police station authorities distributed 25 sacks of rice to the transgenders living in Choolai locality. Traffic Beat constable Shanmugham of Marina is feeding daily to dogs and crows in the beach. Those voiceless beings are so starved for food and water after Marina lost its regular crowd to curfew.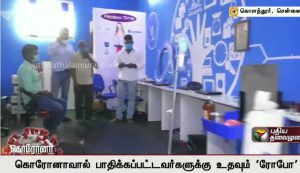 Prem, a student from Kolathur has devised a robot to facilitate the isolated Corona patients without getting the doctors and Nurses infected. It is said that the patients need to be contacted for regular check-ups every hour by the medical professionals. This robot named Buddy, weighing 20 Kgs can be operated with a mobile app. It can check the body temperature, distributed hand sanitizers, deliver medicines, food & water to the patients without the help of nurses or doctors. The patient can also have video call with the doctor through the attached camera.