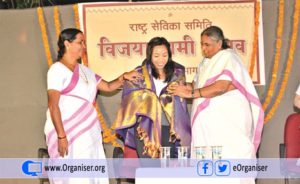 Nagpur. Underlining the need to arrest the influence of Maoism on youth the Rashtra Sevika Samiti's Pramukh Sanchalika Shantakkatai on October 14 said the present time was marked by intellectual conflict. She was addressing the annual foundation day of the Rashtra Sevika Samiti at Madhavnagar Ground. Padma Award winner Mira Chanu from Manipur was the chief guest. Besides Nagpur Mahanagar Karyawahika Karuna Sahte and Vidarbha Prant Karyavahika Rohini Athavale also shared the dais. Besides, former Pramukh Sanchalika Pramilatai Medhe, Nagpur Mayor Nandatai Jichkar and Mahanagar Karyavahika Smt Karuna Sathe were also present.
She posed a pointer to the so-called human rights organisations as to why they fail to raise their voices on violation of human rights of innocent persons. She appealed to all to remain vigilant for internal security. She praised Meera Chanu who won accolades for the country in weightlifting.
Meera Chanu said it was her mother's wish that she should bring a medal for her country. To fulfil her mother's dream she came to this field of weightlifting and won the medal. She stressed that support from the family was must for all those who want to work in various fields. Earlier, the Sevikas demonstrated yogasana, danda and drill.