New Delhi. RSS Sah Sarkaryavah Arun Kumar Ji said that "It's not time for blame. It is the time for introspection and self-correction. Instead of blaming the leftists and other historians who distorted history, we must put dedicated efforts to bring out truth. There is a need for positive and constructive approach".
He was speaking at the launch of the book, 'SWA: Struggle for National Selfhood', by J Nandakumar Ji, Prajna Pravah National Convenor, at Ambedkar International Centre on Saturday.
Speaking on the occasion, he said that the English educated Indians who gained controlled over our institutions post-1911, reduced the idea of Independence (Swatantrata) to just self-rule (Swadheenta), and ended up accepting India's Partition.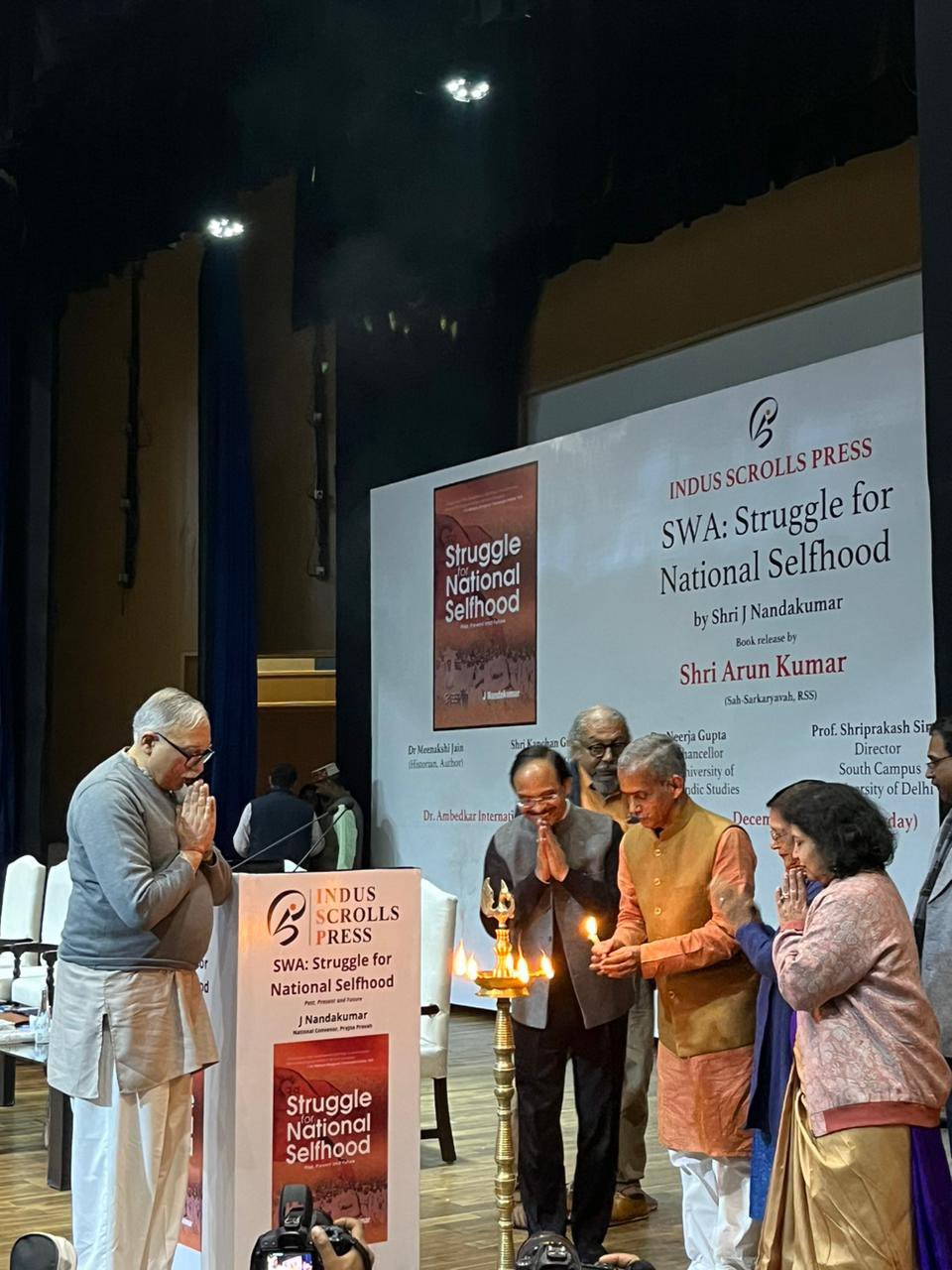 The Islamic invaders destroyed India's social institutions whereas the British ruined India's economy and tried to destroy its social fabric and values. We were able to withstand the Islamic invasion only because our social system, economic systems and the family system remained intact.
Speaking about the book, Arun Kumar Ji said, "Nanda kumarji ventured into writing the present volume after Sarsanghchalak Mohanji Bhagwat advised him to expand a brief volume on the same topic. 'Swa' talks about two phases of the invasion that are the state of Bharat at the time of the arrival of colonial forces and the intensity of the crimes they've done. This book also gives an elaborate idea of our struggle for Swatantrata and Swaraj".
Kanchan Gupta, Senior Advisor to MIB, said that the book talks about the past, present and future of the Swaraj. "Decolonising started happening in the 75th year of India's independence. In fact, it should have started as soon as we got freedom".
"India has to rediscover India. That is where Aatmanirbhar Bharat comes in. It's about inculcating a sense of 'we can do it'. We have attained political freedom but not economic freedom. It's only now we have started realising the importance of economic freedom".
Quoting Sri Aurobindo, J Nandakumar Ji said that the freedom movement was not mechanical or artificial but spiritual and moral. The battle was for selfhood. From Maharshi Aurobindo to Mahatma Gandhi, it was indeed a fight for selfhood, he added.
"In his Vijayadasami speeches, Sarsanghchalak Mohanji Bhagwat had called for a Swa-centric approach towards the history of our freedom movement. This 'Swa' is none other than Hindutva".
Nandakumar Ji further stated that the seed of the idea of writing the book got from Sarsanghachalak Shri Mohan Bhagwat.
In 'SWA: Struggle for National Selfhood', Nandakumar surveys the entire freedom movement from a historical perspective to bring out in absorbing detail the real motivation of our freedom fighters – to preserve and revitalize the "Swa", Consciousness our National Selfhood. The book also provides the readers a new template to view India's past.