"Islamic Terrorism is a global challenge, India & Israel can come together to counter it" – Mukunda CR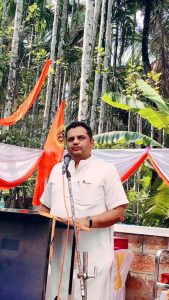 Bengaluru. Symbol of Bharat-Israel cultural ties, Narada Muni's (Itamar Oren), punyatithi was observed at his samadhi sthal at Gonikoppa in Kodagu, Karnataka, in a unique way by organizing a day long Bharat-Israel symposium. Narada Muni's samadhi sthal is located on a land donated by Kuppanada Raja and Chhayaa Nanjappa for the cause. The symposium was attended by a gala of dignitaries from various parts of Bharat along with a team of nearly 20 devotees of Narada Muni from Israel. The symposium was organized by the Diya-Minorah foundation.
The daylong symposium started with jyoti Prajwalan by RSS Sah Sarkaryavah Mukunda Ji, Swami Vigyanananda, Gopal ji of VHP, Vijay Sankeshwar-Chairman of VRL group of companies, Swami Paripoornananda Ji of Telangana and DGP Bhaskar Rao Ji. The inaugural Session started with chanting of Veda ghosha.
Invocation by Israeli devotees in Sanskrit was applauded by all. A monograph by Satya Bansal 'What is our true Wealth' was released on the occasion by the dignitaries.
RSS Sah Sarkaryavah Mukunda CR delivered the keynote address at the symposium. In his address he said that efforts such as these, bring people of two ancient cultures together. "Effort to bring like-minded and like-hearted people from across the world is possible only through sheer dedication and effort. This is an occasion where a thought process on Bharat-Israel connect will be triggered. It is through such efforts that we can face common challenges and also extend and strengthen our bonding. A symbol of our common challenge is Baby Moshe. Last year the kid was here. The kid symbolizes the common challenge of Islamic terrorism and it is a global challenge today.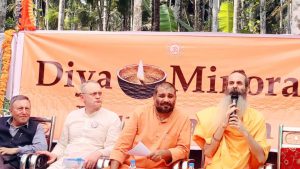 Bharat's population and Israels experience in countering Islamic terrorism can come together. Israel has been helping Bharat with technology and knowledge in countering terrorism. Today Bharat has grown economically and its influence in the world has increased. Israel also considers India its key partner. However apart from official engagement between two govt., people to people engagement which is more cultural and spiritual is long lasting and stands the test of time. Initiative like this will enhance this people to people connect through sharing values. There are several commonalities among our traditions. The guru-shishya Parampara of Bharat and master disciple relation in Israel, meditation in our two cultures, and many other similarities exist and strengthen our bonding", said Mukunda CR.
Subsequently, a panel discussion on "Strong Relationship between Bharat and Israel: Responding to the Common Challenges" was held. The discussion was moderated by Swami Vigyananandji of VHP America. In his introduction to the session, Swami Vigyanananda said that Bharat and Israel have had ties since time immemorial much before official recognition. Collective identity is a challenge and we have suffered at the hands of same people. The first challenge we face is of population, second is the political challenge, and third challenge is of Islamic terrorism and handling dangerous neighbors
In the discussion, retired IAS and former governor of Chhattisgarh Shekar Dutta said that we must use technology to reach remote areas to understand whatever is happening. Muances of cyber-security has to be learned from Israel. Dayanand ji Maharaj from Israel said that ancient wisdom provide answers to all questions. If we raise our consciousness as said in Gita we will know how to live with anyone. We should highlight whatever is common between us and work on it to bring people together. Chairman of VRL group of companies Vijay Sankeshwar said that messages that invigorate people to fight terror should be spread widely. When many of our Swamiji's themselves are saying that they are ready to don the army fatigues to fight for the country, we are in safe hands. Other solution is to increase the fertility of our population to counter the threat of increasing Muslim population, he said. Prof Emmanuel from Israel said that a young population can help in growth and we must engage them properly. Technology transfer should happen to engage people gainfully. Noted writer Sankrant Sanu said there is a need to turn around the challenges using adhyatma and consciousness.
Smt. Rachael, economist from Israel gave details about Narada Muni and Diyah Minorah foundation. She also gave information on the proposed knowledge centre which will bring the two cultures together. The foundation will also work towards exchanging economic and technology knowledge.

The second panel discussion on 'Bharat and Israel further extending the bond through culture and economy'was held. Prof. Itimar Theodar moderated the session. In his inaugural comments Prof. Itimar provided the impact of Bharat's culture on Israel and highlighted several commonalities.

Israel expert Ravi Iyer said that Einstein and Oppenheimer quoted Gita. Many Israeli students come to India after graduation. Technology of Israel connects us today. Many companies like Google which we use as part of our daily lives were created by Jews. Strong ties between Bharat and Israel runs for 2000 years.

Jodhpur soldiers and Mysore lancers fought in battle of Haifa against the Orroman army in 1st World War. Romas who were originally from India were sheltered by Jews while they were persecuted elsewhere.

Tapan Ghosh of Hindu Samhati spoke about the Hindu resistance against Islamic aggression. Israelis should also build and educate their children about persecution by Islamic forces other than Hitler's holocaust. Hindus are not docile but our lawmakers are docile. The kshatriya spirit should emerge in us. Fighting against Islamic aggression is a Dharmic duty. Today every Jew is fighting like Arjuna and we need to emulate the same, he said.

Former CEO of Barclays Wealth Satya Bansal said that there are a lot of economic opportunities in India and we need to learn innovation from Israel. We can create common a market and an incubation centre to boost economic ties. He also said that he is ready to help in any initiative that brings two countries together economically.

Dr. Michelle Harrison, founder of Shishur Sevay said that the biggest problem in India and the world today is the limitation to free speech in the public sphere. If I quote from the Quran we will be branded as Islamophobic whereas a mullah is allowed to teach the same to kids in a Madrasa. Sadly, India didn't have a govt. that is pro-Hindu for decades. We face a common enemy which we have to fight back urgently. Both our civilizations have survived and we will continue to survive, she said.

BJP Women's Wing Vice President Dr. Rajni Sarin in her response said that when we have Swamiji's guiding us, Hindus will survive. The Romas were for the first time recognized by the government of India and were given PIO cards by Modi's govt.. First conference on Romas was held in Kannauj. India and Israel have had trade relations for hundreds of years. Every year 60000+ people come from Israel to India and more than 70000 Indians visit Israel every year, she said highlighting the increasing cultural connect between the two countries.

The daylong symposium ended with recalling the life and times of Narada Muni, his message, and a tour of his samadhi. The patron of the symposium and donor of the land, Chhayaa Nanjappa delivered the vote of thanks and gave a outline of the future plans to build a study centre which will serve as the nodal point in Bharat-Israel ties. The centre which will be devoted to the purpose of strengthening the relationship between Bharat and Israel will provide a platform for students to research on Narad Muni, cultural and economic aspects of the two great civilizations.

/?php if(of_get_option('disable_share') != true) { ?> /?php echo mom_single_share(); ?> /?php } ?>
About The Author
Related posts
Leave a Comment